State's pear crop looks good despite delay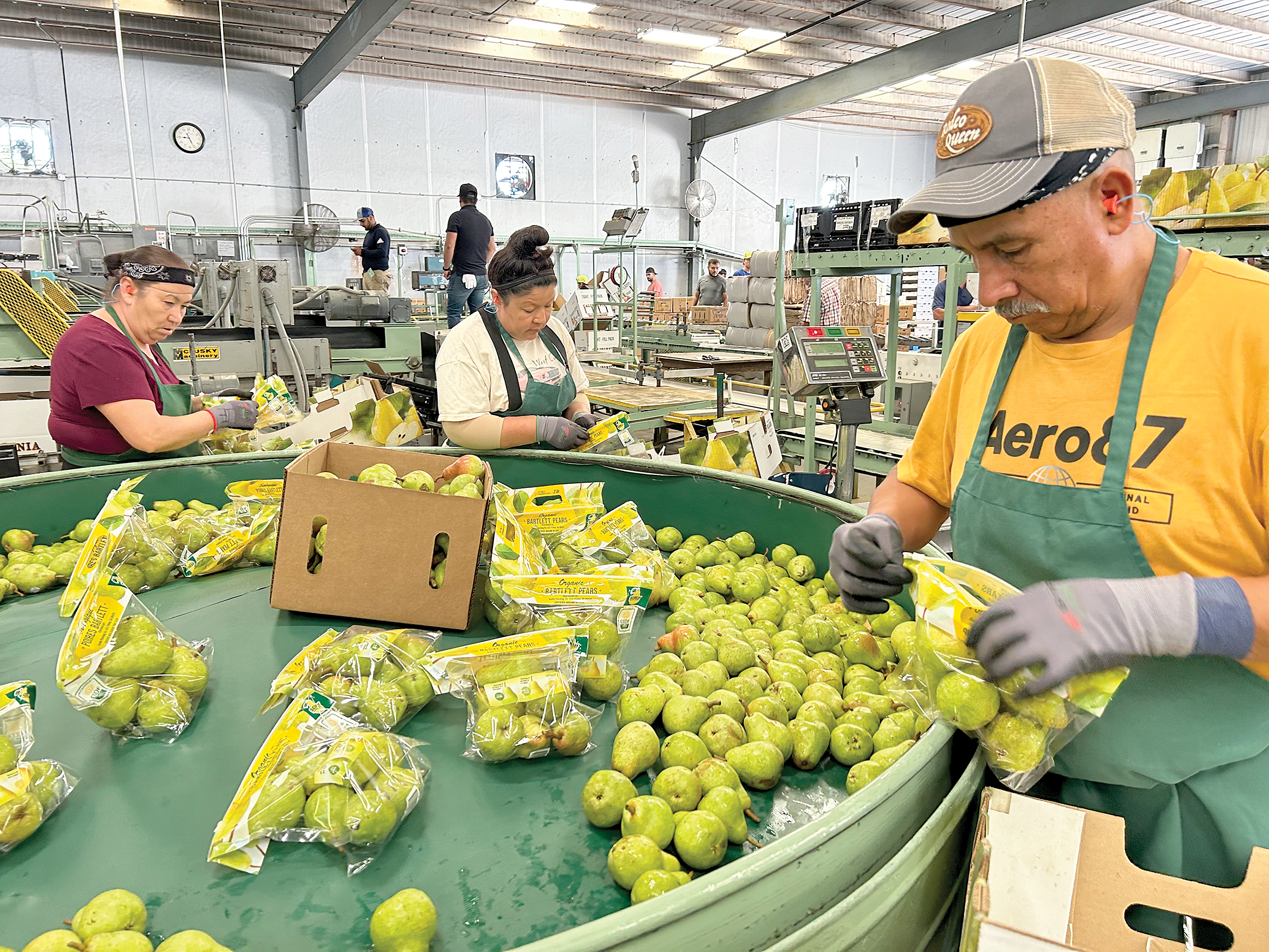 ---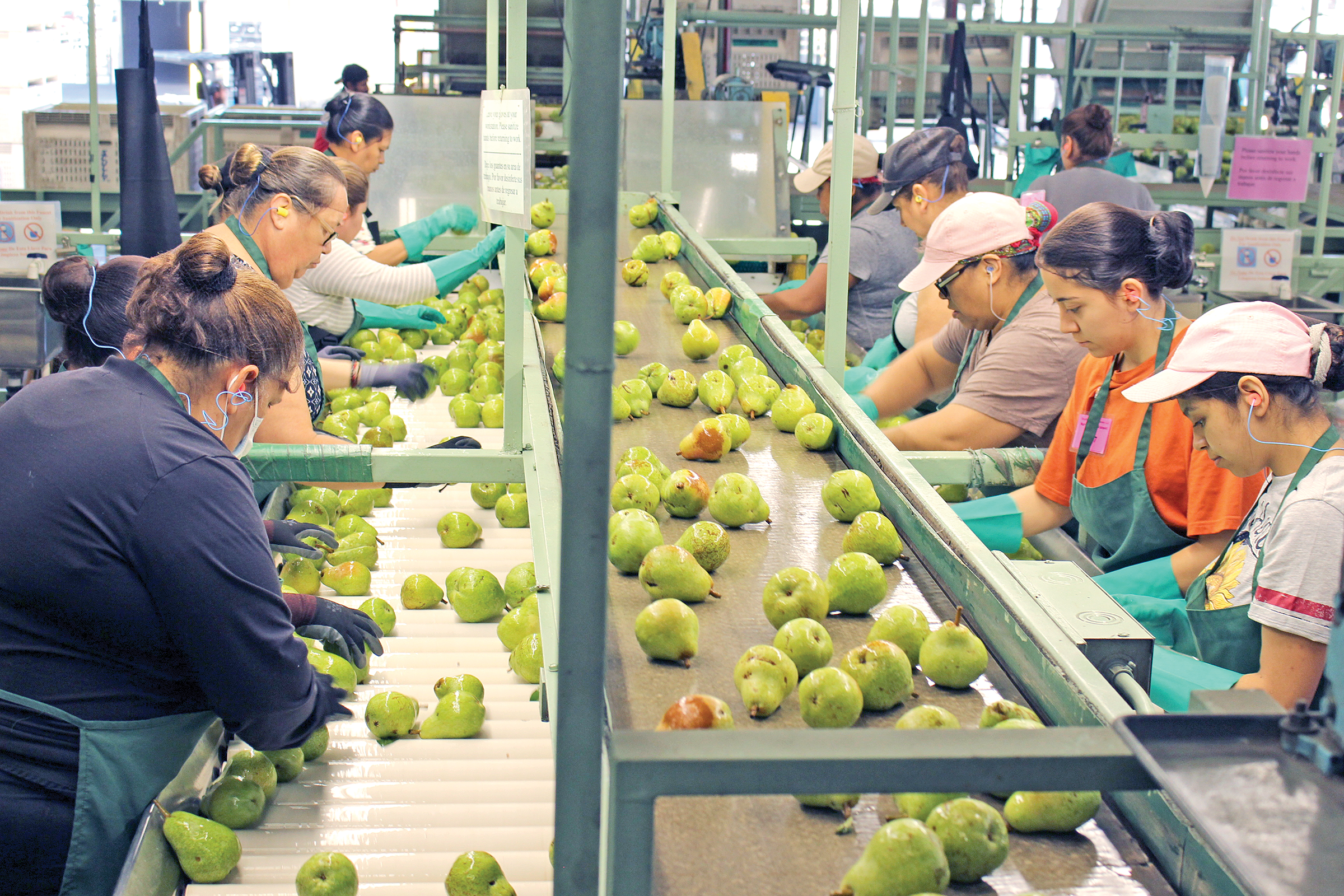 By Christine Souza
Even though a cold spring and late bloom delayed harvest by about two weeks, California Bartlett pear growers say they are seeing a good crop of high-quality fruit, which is sold to customers for the fresh, canned and processed fruit markets.
Lake County pear grower Pat Scully, general manager and owner of Finley-based Scully Packing Co., which packs and ships 35% to 40% of the state's Bartlett crop, said he is pleased by the results he is seeing.
"The fruit is sized nicely down on the river, and up here we are expecting a little bigger crop than last year," Scully said.
Harvest is ongoing in the state's two main growing regions, with the Sacramento River Delta finishing its later varieties, while Lake and Mendocino counties are ramping up harvest of the Bartlett variety, which accounts for nearly 90% of the state pear crop. State bearing acreage for all pears totaled 9,400 in 2022, according to the U.S. Department of Agriculture.
"Typically, all the Bartletts would be wrapped up in a normal year several days before Labor Day, but it's probably going to be the 10th to 15th of September before we get done with harvest," said Scully, who packs fruit for 20 pear growers in addition to its own fruit grown in orchards in Lake, Mendocino and Sacramento counties.
Alex Wilson, farm manager for Lodi-based Rivermaid Trading Co., said, "The quality has been phenomenal. We're dealing with a very clean crop with good tonnage."
Wilson, whose family company is the state's largest pear supplier, also grows pears in the Sacramento River Delta, which produces the bulk of the state's pears. In addition to Scully Packing and Rivermaid, the other regional pear packers are Greene & Hemly and Stillwater Orchards, both based in Courtland.
"As a pear grower, I'm very, very happy with what we're seeing out of the field, both with the tons per acre and the quality that we've been getting from a fresh-market standpoint," Wilson said.
Noting that this year's pear bloom was "the latest that has ever been recorded," he said Sacramento River area growers began harvest in late July. He said some growers delayed picking to maximize yields by giving the fruit an opportunity to increase in size.
"For the Sacramento Delta, the majority of Bartlett growers are probably averaging between 25 to 30 tons per acre," said Wilson, adding that larger fruit is more marketable for the fresh market.
Overall production is expected to be about the same as last year, said Chris Zanobini, executive director of the California Pear Advisory Board, with the state's Bartlett crop estimated at 109,000 tons compared to 116,000 tons last year and 108,000 tons in 2021.
Production of other varieties, such as bosc, Starkrimson and French Butter, are expected to total 11,210 tons, Zanobini said.
Roughly 25% of the state's total pear volume goes to the fresh market and the remainder supplies the state's two canneries, Walnut Creek-based Del Monte Foods and Pacific Coast Producers, based in Lodi. This year, cannery price averages $580 per ton to $600 per ton for a contracted amount of 79,000 tons of pears.
"As far as the cannery is concerned, what you receive dollar-wise per ton depends on your size, which is why a lot of growers wanted to wait to let their fruit size," Zanobini said.
"There's definitely some competition for fruit between the cannery and the fresh market," he added.
"It has really put everybody on their game where we have to have a cannery price that is enticing to the growers," Zanobini continued. "There's probably more cannery demand than there is fruit available at this point, and so when you're in that situation, it helps to drive good pricing and smart marketing."
Wilson said the fresh fruit price is affected by imports from South America. As the Bartlett pear season progresses, he said, the price typically drops every week and eventually settles, at which time growers in the Pacific Northwest start shipping their pears.
"In the industry, imports affect pricing significantly," Wilson said. "If there are a lot of (fresh) imports from South America, then retailers are still holding onto a lot of fruit, and then they don't need that California pear.
"With proper communication with retailers, we had a fairly open pipeline as with our domestic market, which was super-beneficial for us because we've been able to move this Bartlett crop in a stable fashion," he added.
Scully took note of the state's pear sector finally reaching equilibrium in recent years after getting supply and demand into balance following the pandemic. "One of the overlying things for this year is demand," he said.
After years of declining prices and reduced acreage, he explained, increased canned fruit purchases during the COVID-19 pandemic helped reduce the state's pear inventory surplus and stabilized the market.
"COVID comes, and everyone goes and buys canned fruit and clears out the inventories and makes the canning industry healthy again," Scully said. "People were reintroduced to canned fruit, so hopefully there's a residual, and the people that bought it during COVID like it and keep coming back and buying more."
The state's pear sector has made a few changes in recent years to provide consumers with more choices and better-tasting fruit. This includes handlers packing several pears in a bag to sell as a unit and pledging to not use storage enhancement products such as 1-MCP, an ethylene binder that slows fruit ripening.
Once the fruit is treated, getting it "to ripen the way you want was difficult," Zanobini said, "so California made a pledge not to use that and to operate within our marketing window to make sure that we're providing fruit that's going to ultimately give the consumer a good experience."
While the majority of the state's pear crop is the Barlett variety, Zanobini said, introducing consumers to other pear varieties during the season helps sales.
"It's always been about the Bartletts, but the other varieties definitely help balance out the fresh market," Zanobini said. "You can't just have one variety on the retail shelf; otherwise, it gets lost. Having golden russet boscs and the red pears definitely helps expand the varieties available and the amount of display dedicated to California pears."
(Christine Souza is an assistant editor of Ag Alert. She may be contacted at csouza@cfbf.com.)
Permission for use is granted. However, credit must be made to the California Farm Bureau Federation