Commentary: Precision agriculture tech needs broadband access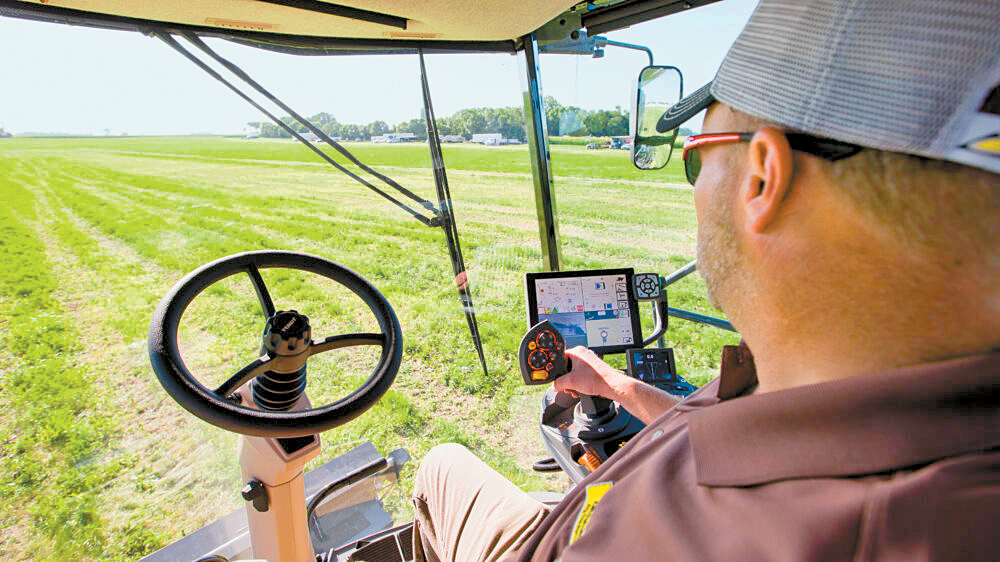 ---


By Bernt Nelson
Farming is truly a special walk of life. As the saying goes, "Man—despite artistic pretensions, his sophistication and accomplishments—owes his existence to a 6-inch layer of topsoil and the fact that it rains."
Farmers tap into biology, using soil, sun, water and nutrients that have existed for millions of years to produce food that sustains people all over the world. But one aspect of farming that is often overlooked is the evolution of agricultural technology.
Farmers today use technology to plant and harvest mile-long fields with equipment guided by satellites for sub-inch accuracy, allowing them to feed nearly 8 billion people across the world with fewer resources than ever before.
These days, "precision agriculture" means managing, tracking or enhancing crop or livestock production inputs, including seed, feed, fertilizer, chemicals, water and time to improve efficiencies, commodity quality and yield, and positively impact environmental stewardship.
To help such efforts, data has become the new crop of the 21st century. Yield monitors, first created in 1992, allowed farmers to record observable changes in crop yields throughout an entire field. This data could be paired with grid sampling, taking soil samples from grid points mapped out on a field to create a map of input adjustments needed to improve yields.
Now GPS auto-guidance systems are revolutionizing the way farmers operate machinery, offering environmentally friendly technologies that allow for more efficient use of inputs. Today, the majority of corn, cotton, rice, sorghum, soybeans and winter wheat acres are planted using auto-guidance.
These technologies deliver exactly what a plant needs, exactly where it's needed, reducing waste and runoff. Thanks to auto-guidance systems that allow a GPS signal to steer tractors with pinpoint accuracy, this can all be done while simultaneously gathering and recording field data.
Most precision agriculture systems operate today using real-time kinematic positioning signals. RTK can be used for field operations such as tillage, planting, harvesting, spraying and a wide range of other field activities. This technology is used to collect data relating to soil temperature, soil moisture, seeding depth, seeds per acre, yield and more while a farmer carries out normal operations.
The data is accumulated and can be used to provide production performance over time. Topography data can even be gathered and used to design tile drainage systems that help more efficiently manage water. Precision agriculture allows farmers to deliver exactly what a plant needs, exactly when and where it needs it.
To provide further access to these technologies, it is critically important that the 2023 Farm Bill bring connectivity to the rural areas that most American farmers call home. Farmers need broadband access to use precision agriculture technologies. Setting up a private network is expensive. And that's if the farm's location can access these resources. According to the U.S. Department of Agriculture National Agricultural Statistics Service, nearly 20% of U.S. farms lacked access to broadband internet in 2021.
In the 2018 Farm Bill, lawmakers highlighted the importance of precision agriculture by including the Precision Agriculture Connectivity Act. This legislation created a task force housed at the Federal Communications Commission to focus on the connectivity and technology needs of precision agriculture.
Now the Linking Access to Spur Technology for Agriculture Connectivity in Rural Environments Act, introduced in July by Sen. Deb Fischer, R-Neb., would establish a new rural development competitive grant and loan broadband program dedicated specifically to extending connectivity to farms and ranches. The legislation, known as LAST ACRE, would allow eligible farmers and ranchers to work with internet providers to submit bid applications for projects.
The upfront costs can be a major hurdle to farmers adopting precision agriculture technology. These investments offer returns over time, but it can be difficult to sacrifice the necessary capital when income is tight, and operational costs such as land rent are higher than ever before. Thankfully, there may soon be assistance available to help overcome these obstacles.
The Precision Agriculture Loan Program Act is a bipartisan bill that would establish a loan program within the Farm Service Agency to help farmers purchase precision agriculture equipment. Another bipartisan bill, the Producing Responsible Energy and Conservation Incentives and Solutions for the Environment Act, would expand farmers' access to precision agriculture tools through existing USDA programs including the Conservation Stewardship Program and Environmental Quality Incentives Program.
Technology has helped to propel farmers forward faster than ever before. These policy proposals would provide robust resources for rural communities to access necessary assistance and education. It is monumentally important to support technology in agriculture and its adoptability in the rural communities where most farming takes place.
(Bernt Nelson is an economist for the American Farm Bureau Federation. He may be contacted at berntn@fb.org. This commentary is adapted from his Aug. 23 Market Intel report, which may be found at fb.org/market-intel.)
Permission for use is granted. However, credit must be made to the California Farm Bureau Federation