Tech event hypes robotics to boost yields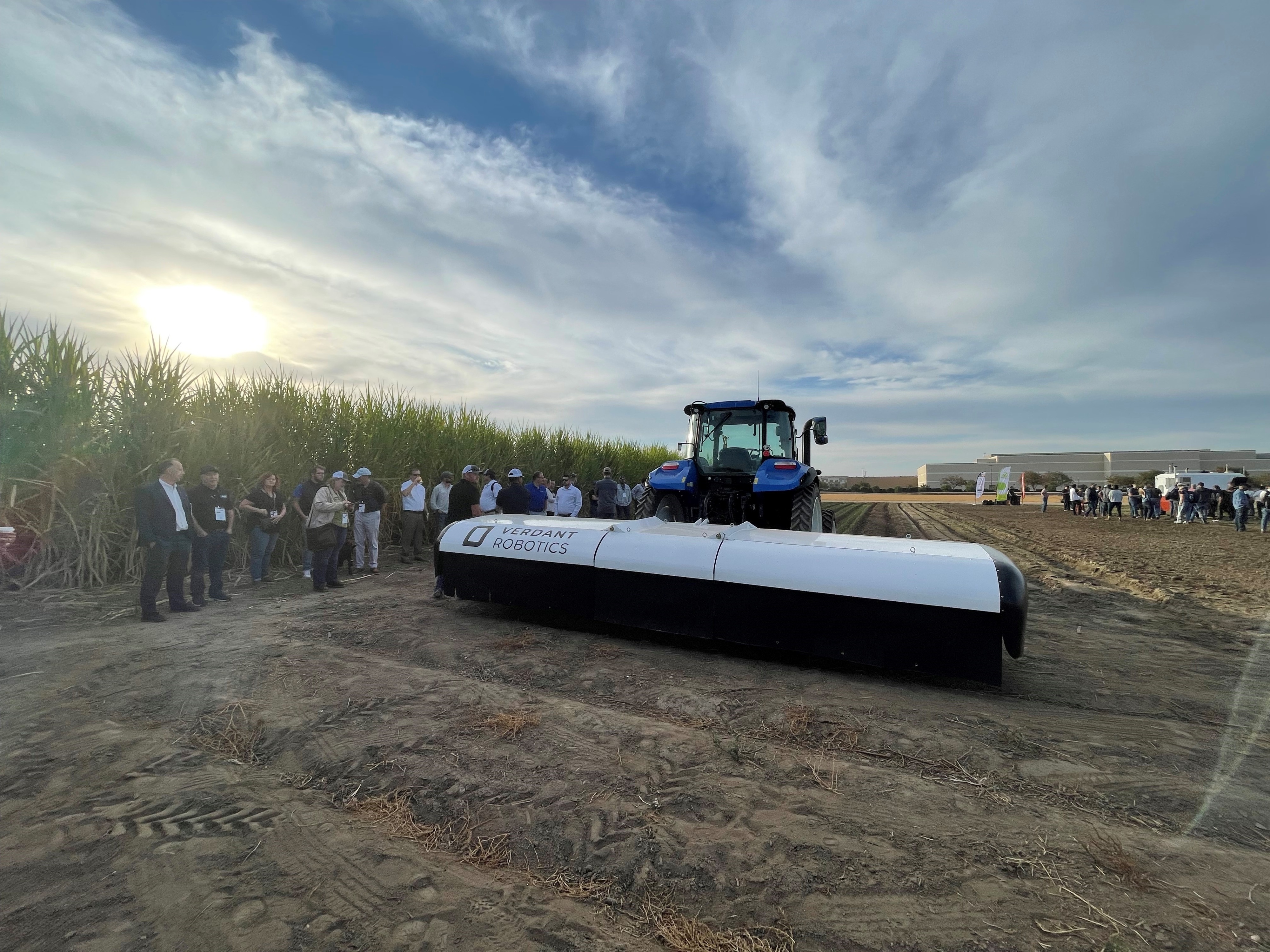 ---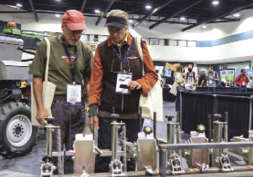 ---
Attendees at the FIRA USA California Agricultural Robotics and Technology Forum in Fresno turn out to view automated machinery that assists vegetable growers with spraying and laser weeding. The three-day event aimed at connecting growers with robotics entrepreneurs.
By Lisa McEwen
The first-ever FIRA USA California Agricultural Robotics and Technology Forum drew 1,000 registered guests and 800 daily attendees—all focused on one topic: using automation to enhance crop production.
The three-day event, held last week in Fresno, included technology marketers, farmers and researchers in a gathering aimed at speeding the arrival of technology to California farms by connecting growers with robotics manufacturers, inventors and investors.
Sandra Belin and Larry Jacobs, growers of culinary herbs, gourds, squash, tomatoes and more at Jacobs Farm in Northern California, and del Cabo in Baja California, Mexico, attended FIRA USA to continue educating themselves on ways technology could improve their operations.
"Bringing technology to ag is long overdue," Belin said. "All farmers are looking to labor-saving devices. The world of farming is becoming more tech-centric and less labor-centric."
Spread throughout the Fresno Convention Center, attendees listened to panel discussions and breakout sessions showcasing new equipment. They chatted with technology exhibitors and examined 20-plus robots parked in the exhibit hall—some with dirt caked on their wheels.
In-field demonstrations at Fresno State University's farm wrapped up the event, with manufacturers showcasing heavy-duty farm robotics spraying and laser weeding equipment before curious throngs.
Belin and Jacobs had previously purchased electric compact tractors from farm-ng, a Watsonville company that markets the Amiga tractors they purchased. The couple shared photos of how employees incorporated the devices into field and greenhouse tasks such as weeding and hauling tools during harvest.
"You don't have to be an engineer to operate it, and it is user-friendly," Jacobs said.
As farms in California grapple with labor shortages, drought and diminishing water supplies, a shift in farming practices by using more automated equipment could save time, money and regulatory headaches by assisting with labor-intensive tasks such as planting, weeding and harvesting.
Discussions at the event focused on easing pathways from an inventor's idea to implementation in a farmer's field.
"Developers need to understand the culture of agriculture," said Taylor Farms President Mark Borman. "We typically start early, and farmers are ingenious at our ability to work around challenges. Meeting our workforce where they are at is really important. We have folks on our farms and in our operations that are ready to learn that technology and tying in how we are going to support this equipment."
Among those hoping to convince farmers about how new technology can support them was Issac Mazor, founder and CEO of Nanovel, an Israeli firm established in 2018. The company has developed a fully automated machine for picking fresh fruit.
Mazor said Nanovel will launch its beta version in 2023 for the U.S. citrus market and said he plans to market the machine to small and medium-sized growers. He has networked with representatives for Western Growers, which operates the Center for Innovation and Technology in Salinas. The center mentors innovators and connects them with investors. Its goal is to automate 50% of the fresh produce harvest in 10 years.
"It came just in time for us," Mazor said, noting that his connection with Western Growers has been key.
The Fresno event was the result of a partnership of GOFAR, the Global Organization for Agricultural Robotics, which for six years has hosted a similar event in Toulouse, France. Other partners were Western Growers and the University of California Agriculture and Natural Resources.
For all the innovation hype at the event, Borman of Taylor Farms said agricultural technology firms must have the ability to scale up for the demands of the harvest season. Taylor Farms harvests 25 million pounds of fresh leafy greens each week.
"We need equipment up and running quickly and reliably," he said. "You don't have an extra car in the garage when your car breaks down, and in farming we need to think about that. You have to have a way to pivot when something doesn't work."
Stuart Woolf, president and CEO of Woolf Farming and Processing, which produces tomato paste and almond products, said he hopes innovators can help farmers better integrate multiple sources of data.
"The idea that you go out and have a yield monitor that provides all this data that you can't use with any other information on the farm is just so frustrating," he said. "All that we can do to have more common platforms that communicate and integrate well, that's what it's all about."
Woolf said some entrepreneurs seek to help farmers with new technology that may not match their needs. "I always think we would all be better served if instead of figuring out what a solution is for the farmer, go talk to the farmer," he said.
Yet Adam Jensen, a recent graduate of California Polytechnic University, San Luis Obispo, said it is exciting to be at the forefront of changing farming practices. The wine and viticulture major recently got a job with Naïo Technologies. He now travels from Napa to Buellton showcasing the company's automated vineyard robots.
"Every week, more and more people are interested in this technology," he said. "When growers realize how much room there is for improvement, it's inevitable that the future will be in ag technology. It is exciting to be young in this industry, to be at the front door of change."
(Lisa McEwen is a reporter based in Exeter. She may be contacted at mcewenlisamarie@gmail.com)
Permission for use is granted. However, credit must be made to the California Farm Bureau Federation