Short supplies could hold up pima prices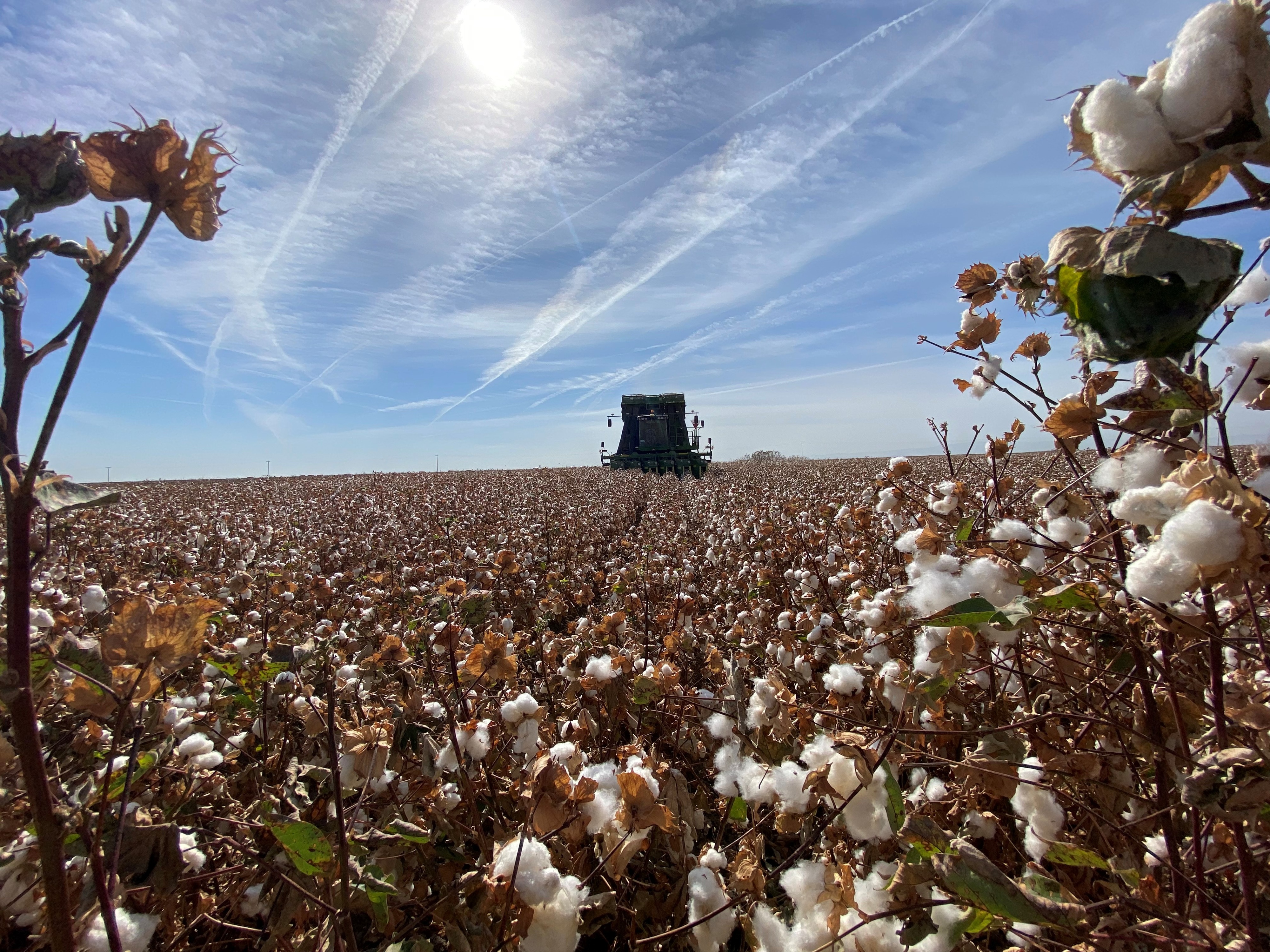 ---

Pima cotton, the main variety grown in the state, is harvested in Fresno County. With practically no carryover inventory for pima cotton, California growers remain upbeat about the market outlook for the high-end fiber, even as global prices for upland cotton have fallen from their historic high.
---
By Ching Lee
With water shortages limiting the amount of cotton farmers grew this year, those who planted acreage say they remain optimistic about the market outlook for the fiber, even as global prices have softened from their record highs last spring.
Cotton harvest is well underway in the San Joaquin Valley, and dry conditions so far have been favorable to farmers. Weather for growing cotton also has been decent this year, even with the extended heat wave in September, said Roger Isom, president and CEO of the California Cotton Ginners and Growers Association.
But the multiyear drought left some farmers in the state's prime cotton-producing region with no surface-water supplies to grow the crop, even when prices soared and market signals told them to plant more cotton.
"The biggest issue is just a lack of water," Isom said. "We didn't have water to really increase the acreage."
Most of the cotton grown in the state is the higher-end pima variety, valued for its extra-long fiber. Supplies of pima cotton remain depleted, with virtually no carryover from last year. California grows most of the nation's pima cotton, with some production in Arizona, New Mexico and Texas. Considering the price, Isom said "we'd be wall to wall pima cotton if we had the water."
California farmers planted 131,801 acres of cotton this year, about 17% more than they grew last year, according to the California Department of Food and Agriculture. A total 113,858 acres went to pima, a 20% increase over 2021. Plantings of the more widely grown upland cotton climbed 11%, to 17,943 acres.
After earning his "biggest returns on cotton" last year, Kings County grower Ted Sheely said he thinks the market outlook for pima remains good. He noted that Supima, a trade association that promotes American pima cotton, told growers "this year's crop will be all committed and sold by June or July of next year."
"That means there's going to be demand for whatever we can grow," Sheely said.
The market outlook for upland cotton is more uncertain. Isom said even though prices have fallen from their historic high levels seen earlier this year, much of the U.S. Cotton Belt crop "is not looking good" due to hurricane, drought and other weather-related production problems.
With pima, Isom said people in the cotton business are more confident that stronger prices will hold into next year and even 2024. But with the economy slowing, demand for apparel and other products made with luxury fibers such as pima cotton could retreat, driving prices down, growers said.
Tom Pires, general manager of West Island Cotton Growers in Kings County, said the cooperative cotton gin is just starting to gin this year's cotton, so it's hard to know what the total yields and quality will be. There's also not much pima cotton being traded, but he noted earlier prices were double what they were last year.
"We're in a transition period right now trying to determine where the true value is," he said.
Meanwhile, competition remains fierce among seed companies, canneries and other processors looking to sign contracts with growers who have access to water to grow crops such as processing tomatoes and planting seed, including for cotton.
Sheely said these companies are already scouting for contracts for next year's crop, "bidding up the ground." They're willing to pay more to get more acreage, he said. Even so, he said his cropping decisions going forward will be determined by water availability. With restrictions on groundwater pumping next year, he said he expects to be "more conservative on what I'm going to grow."
For example, he said he already decided he won't grow any organic pima cotton next year because of the high risk of a crop failure. He also has not committed to growing the amount of upland acres a seed company wants to contract because of water uncertainties.
"What water we have, we're going to put it to the permanent crops first," Sheely said, referring to his pistachios and winegrapes.
Rick Worth, who farms in Fresno and Kings counties, did not grow any cotton this year because he received no surface-water allocation. With almond prices dropping, he said he's removing older orchards and "making choices on what to grow" depending on what he thinks is most profitable.
"We're not going to go back into a permanent crop; we're going to go back into row crop—tomatoes or possibly even cotton, especially if the price comes up," he said.
Tulare County farmer Geoff Toledo, who finished cotton harvest last week, typically grows an equal amount of pima and upland. Even though pima prices are higher, the longer-season crop is risky as harvest moves into the rainy season in November.
Rain can delay harvest and wreck crop quality. Upland has a shorter season and typically yields better than pima, but prices have tumbled from where they were six months ago.
Even with the lower prices, Toledo said he will make out OK, as part of his upland acreage was contracted for seed, which pays him a price closer to what he would earn on pima. He also presold a third of his upland at higher prices. But he said he fears the weakening economy will affect consumer spending on cotton products such as clothes and sheets, further lowering grower prices on the fiber.
Merced County farmer Gino Pedretti III was about 70% done with cotton harvest last week. He described his yields as "a little off compared to last year," blaming unfavorable planting conditions in April. He planted 60% of his acreage to pima and 40% acala, a higher-quality upland variety grown mostly in California and the Southwest.
After "really good" yields last year and historically high prices, he said he was able to make "a decent profit" despite rising production costs. With fuel, fertilizer, labor and other costs even higher this year, he said he hopes cotton prices will remain firm enough to cover those costs. What's being grown and what's being consumed still look "pretty promising" for stronger cotton prices, he said.
"But everybody's worried about what the world economy does," Pedretti added. "If it crashes and people stop buying clothes, then that's going to mess up the fundamentals."
(Ching Lee is an assistant editor of Ag Alert. She may be contacted at clee@cfbf.com.)
Permission for use is granted. However, credit must be made to the California Farm Bureau Federation