Madera farmers march on Capitol, protest water fees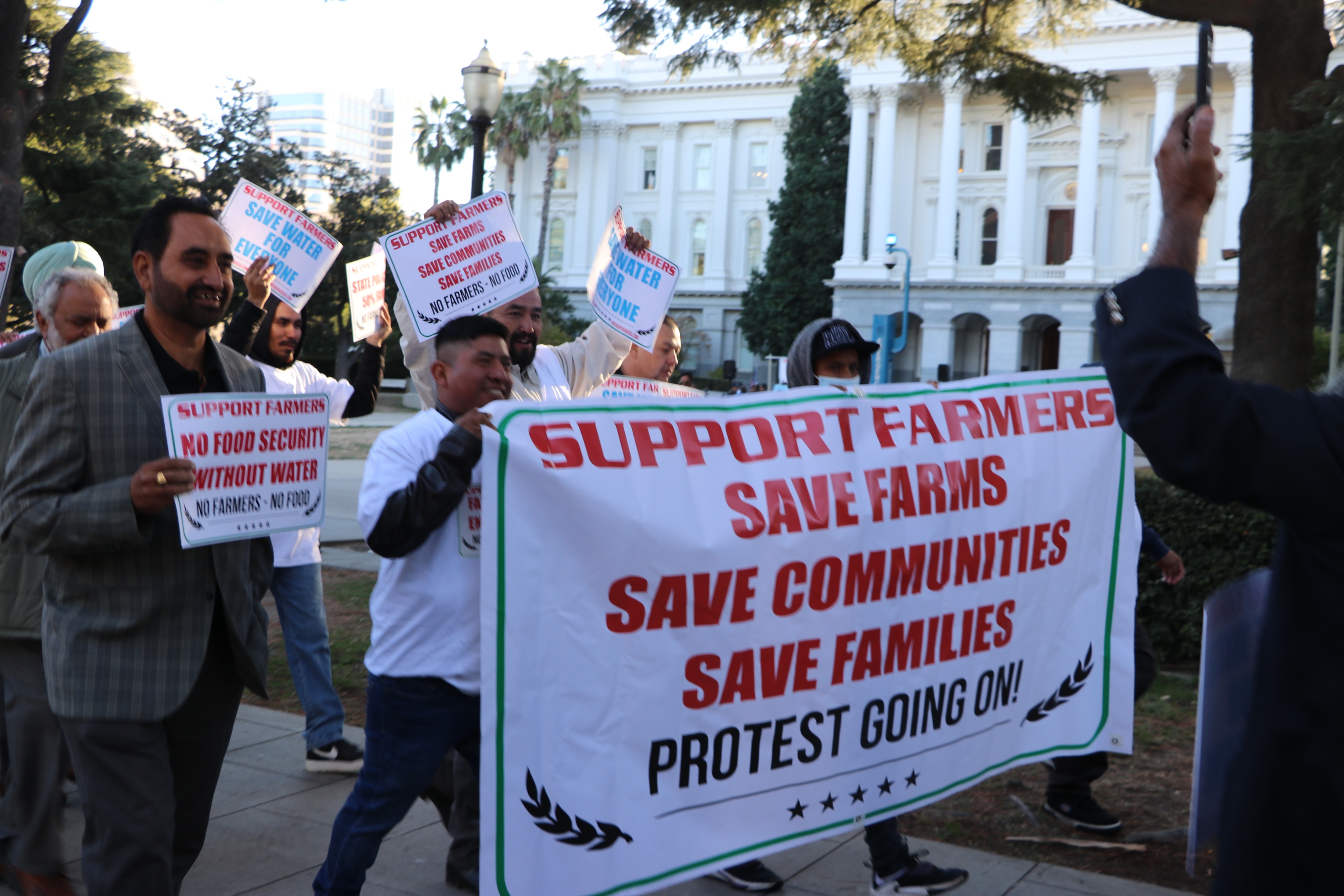 ---

Farmers and supporters march on the Capitol, demanding that officials provide more surface water for San Joaquin Valley agriculture. Many were farmers from Madera County upset about new fees on aquifer pumping.
---
By Peter Hecht
A group of San Joaquin Valley farmers, led by a contingent of growers from the Sikh community in Madera County, marched on the state Capitol last week to call for increased allocations of surface water for agriculture.
Farms in the valley received zero water deliveries this year from the federal Central Valley Project and faced severe cutbacks in diversions from the State Water Project. In addition, California water officials issued curtailment orders to protect the Sacramento-San Joaquin Delta.
"We're protesting against the policies...that are cutting water in the Central Valley and affecting a lot of people's lives," said Jaspir Singh Sidhu, founder of the Punjabi American Growers Group, which represents more than 450 farmers and 100,000 acres of farmland.
Sidhu, who helped lead a march and rally of about 200 farmers and agriculture supporters, blamed California water policies for putting "the whole valley in a jeopardized condition" and threatening food production.
Sidhu represents farmers in Madera County, where the Board of Supervisors in September voted to impose a $100 per acre-foot penalty—to begin in 2023—on farmers who pump groundwater beyond their allocations.
This came after the county this summer added an additional $246-an-acre fee to manage irrigated lands in areas where farmers have no access to surface-water supplies and must rely exclusively on aquifers to grow crops. The fee has triggered a lawsuit from a farmers group called California Unified Water Coalition, which contends the fee is an illegal tax.
Christina Beckstead, executive director of the Madera County Farm Bureau, said many of the county's Sikh farmers grow almonds, pistachios and other crops in areas without surface supplies.
As farmers regionwide have turned to groundwater to make up for cuts in reservoir supplies, that has further reduced aquifer levels and heightened frustrations for those relying solely on wells.
For the eight valley counties from San Joaquin to Kern, the California Department of Water Resources reported some 1,200 agricultural and domestic wells have run dry this year. Water officials reported 465 dry wells in the Madera County alone.
That is as California enters the third year of drought, with dry conditions across the West described by scientists as the worst in 1,200 years.
Beckstead, who was present at the start of the Capitol rally, said the farmers from Madera County are saying, "'Look, stop chastizing us for pumping groundwater when you cut off our surface- water supplies.'"
Beckstead has met with many of the affected farmers. She said, "At this point, their livelihood depends on something that is being taken away from them at every angle they turn. So they are trying to have that voice and explain what it is they're losing and how it impacts everyone else."
Sidhu, who is also part of the Unified Water Coalition group, said some farmers are frustrated with their own county. He said the new groundwater pumping penalties "basically now penalize us for taking water from the ground...when our state government is not allowing surface water."
County Supervisor David Rogers, who voted against the pumping penalty, turned out in support of the farmers at the Capitol march and rally. He blamed California water policies for putting Madera County—and its farmers—in an untenable position.
"We know there's a problem, and we know we have to fix the problem," Rogers said. "But they're trying to fix the problem on the backs of one group."
Some participants in the protest called on state officials to release more water from the Sacramento and San Joaquin rivers to replenish badly depleted reservoirs. State water officials say they need to safeguard sufficient flows to protect salmon populations and the environment.
"I'm not saying take everything out of those rivers," said protest participant Nanette Simonian, a Fresno County pest control advisor and former vegetable and organic prune farmer. "I'm just saying take a portion. I mean, there can be allocations into our reservoirs. I'm not saying take the whole thing—we don't want the fish to die."
Simonian said she is frustrated that "farms are getting torn up right now." In Fresno County, she said, "you see citrus being pulled. You see olives being pulled out, vineyards being pulled out. No new planting is happening because there is no water."
Rogers said he fears those who face hardships from water shortages "are the best environmentalists in the world—family farmers who love the land, who love their farms, and who want to see them continue to the next generation."
He said it is unfair to blame "the farmer pumping groundwater."
"Water is life," he added. "And when you take away our water, you take away our life. You're taking away our ability to make a living."
(Peter Hecht is chief editor of publications for the California Farm Bureau. He may be reached at phecht@cfbf.com.)
Permission for use is granted. However, credit must be made to the California Farm Bureau Federation