From the Fields - Jim Spinetta
---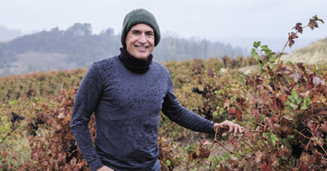 ---
By Jim Spinetta, Amador County winegrape grower
We never had a season like this. In late spring, we had a frost come through. It got down to 16 degrees for three hours, and it froze 90% of our barbera crop. It just wasn't profitable to go through there with a crew and pick the grapes, so we left them out there for the birds to incorporate back into the ground.
Overall, about 40% of the zinfandel crop up here was burned. We also have over 300 different fruit trees on our property, so no apples, no pears, no peaches, no apricots this year. Even the pomegranates were burned down to the ground. We had to restart new shoots because of the frost. We're hoping it didn't burn into the bud so deep that next year's bud is going to be fine.
For what people are able to harvest, the quality is very, very good because it was light tonnage, which makes it very, very good quality. But it was a very challenging year, from the frost to the real dry conditions that we had. The heat wave burned leaves. We got sunburn onto the grapes. The heat wave came prior to the grapes being mature, so a lot of the grapes just turned into raisins. We were up to almost 114 degrees at that time, which is breaking records for this elevation. We're close to 1,800 feet. That's hot for up here.
Overall, this is going to be one of the lower years. People in Amador County probably averaged about 2 and a half to 3 tons per acre, just between the frost and the sunburn. In a typical year, you get about 3 to 4, maybe up to 5 tons per acre, depending on the varietal and how they're grown. We're hoping for good yields next year. We've noticed from other challenging years that the following year is going to be a big boom.
Permission for use is granted. However, credit must be made to the California Farm Bureau Federation