Farmers seek rebound after floods, virus hit lettuce crop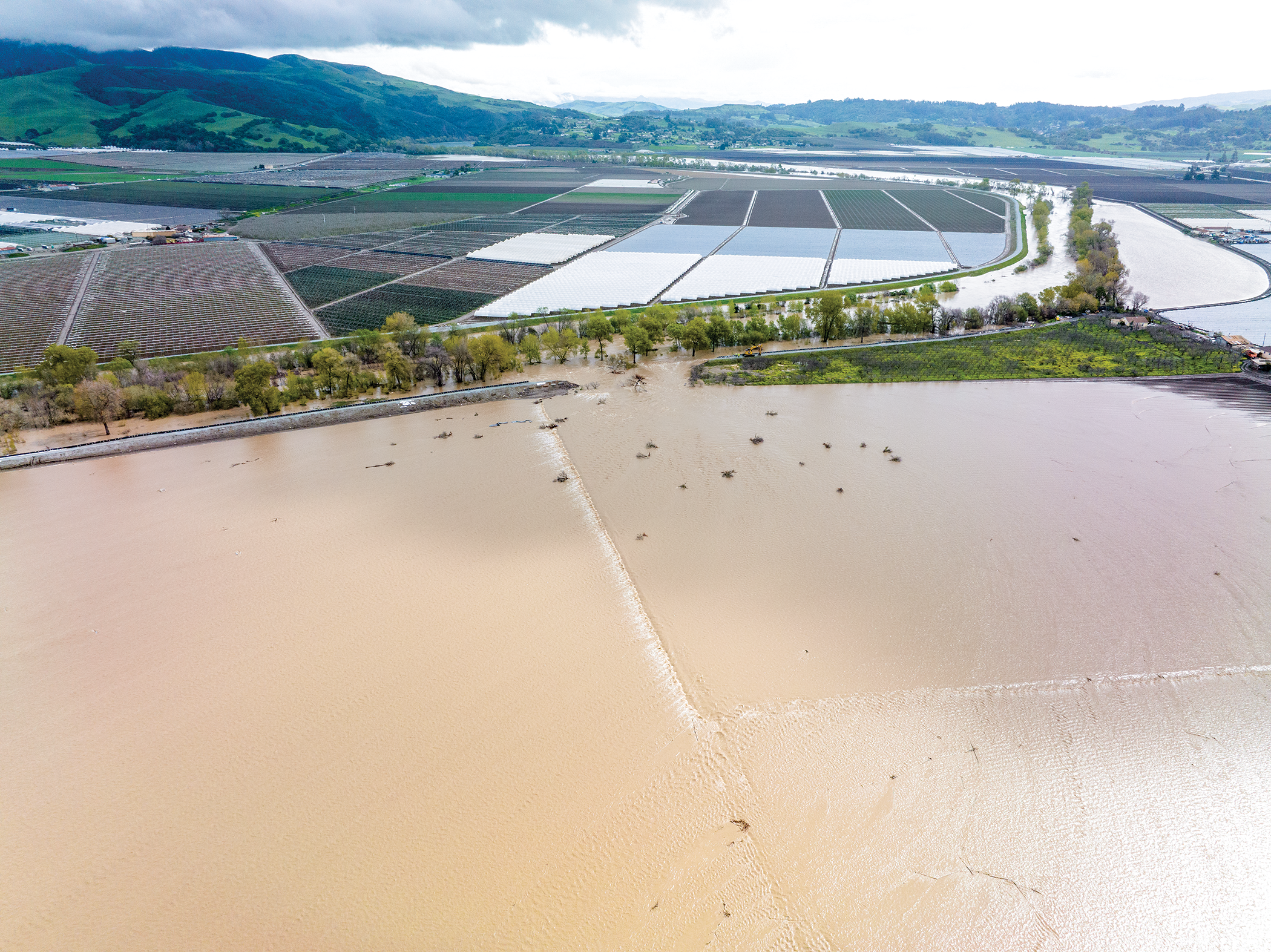 ---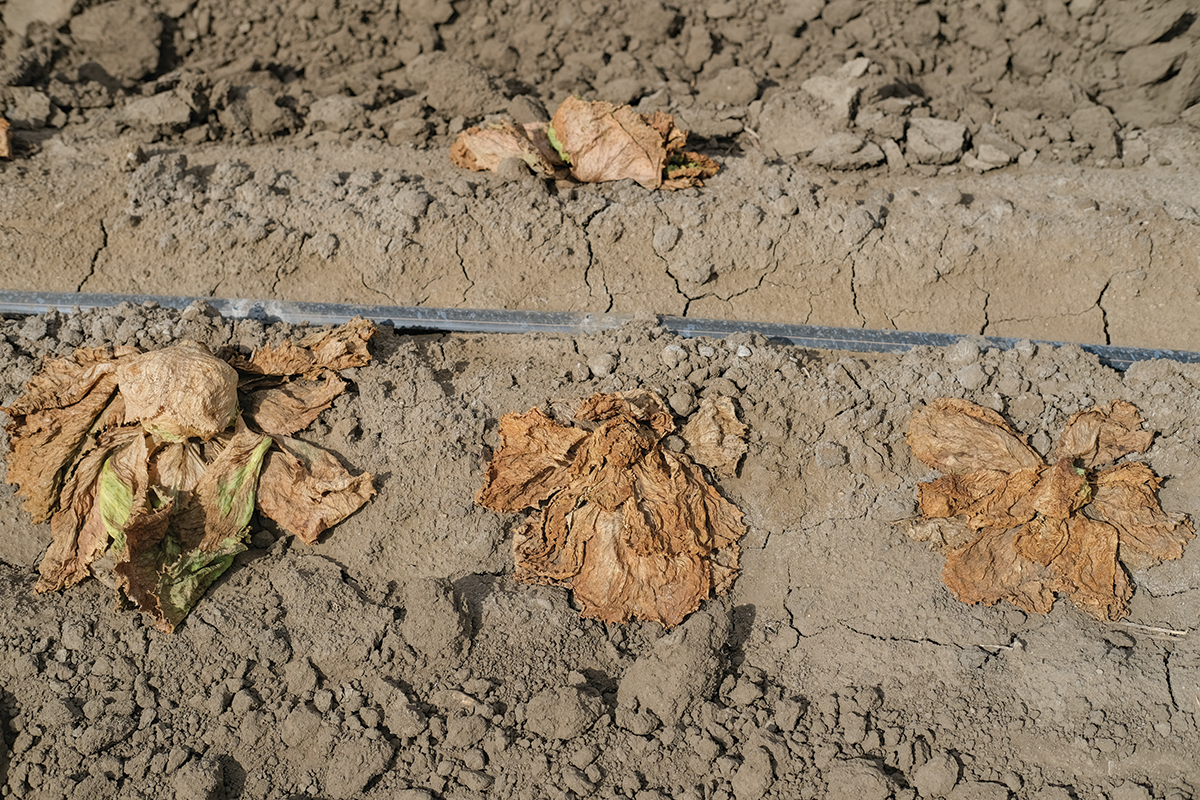 ---
By Caitlin Fillmore
Things were challenging enough for lettuce growers in Monterey County's Salinas Valley before Mother Nature dealt a one-two punch in this year's storms.
Farmers in 2022 had suffered an estimated $150 million in crop losses as impatiens necrotic spot virus—a destructive plant disease spread by thrips—moved from field to field.
Then this year, vast flooding from atmospheric storms damaged multiple crops, with lettuce growers suffering an additional $54.4 million in losses, according to figures released by the Monterey County agricultural commissioner.
The flooding is seriously testing lettuce farmers growing the signature crop in the Salinas Valley, renowned as "the Salad Bowl of the World."
"We're pretty dejected," said Ryan Kelly, vice president and general manager of Boutonnet Farms. "Just getting your butt kicked all the time."
Early this month, Boutonnet Farms was still replenishing topsoil washed away by a deep channel that ripped through farmland between Chualar and Castroville.
"We have a channel flowing through two of our ranches," said Kelly, who oversees 4,600 specialty crop acres, of which 2,200 is iceberg, romaine and mixed lettuce greens. "Any ground that was flooded, it's going to be a struggle to get a lettuce crop off of it. It's going to take a pretty significant amount of time."
For lettuce growers, flood impacts can last months, as food safety regulations for leafy greens require farmers to destroy crops exposed to floodwaters and then test the soil for pathogens before replanting the fields a month or two later.
All told, flooding in January and March caused $600 million in agricultural damage in Monterey County, with 15,507 acres of farm fields flooded in January and 8,736 in March.
"This has proven to be one of the most difficult winters many of our growers and communities have experienced in our area," Monterey County Agricultural Commissioner Juan Hidalgo said in a statement as he released the latest damage accounting this month.
Norm Groot, executive director of the Monterey County Farm Bureau, said the county toll could hit $1 billion because the current figures "don't include every damaged farm" because data submission was voluntary.
"There will be more expenses to remediate flooded fields, repair equipment and fix levees," Groot said.
But Groot is quick to point out that the vast majority of lettuce acreage in Monterey County, which normally accounts for $1.2 billion in annual production, was spared from flooding. He also noted that growers this year will have an ample water supply for the planting and growing season.
"Many of our growers have fields that were not impacted by flooding and are currently in production," Groot said. "Most are remaining optimistic because we now have water instead of drought, so the future outlook is improved for several years."
Nonetheless, lettuce growers in the county have endured multiple years of hardships, with impatiens necrotic spot virus, or INSV, causing an estimated $100 million in crop losses in 2020 and even greater losses in 2022.
"It's always about expecting the unexpected," said Mark Mason, manager of Nature's Reward, which farms 9,000 acres stretching from the Spreckels area of Salinas south to Soledad, with about 60% planted as various lettuces.
In the face of crop challenges, Mason said Nature's Reward has stepped up plantings in recent years and increased acreage. "This year is up there because we were hit in so many ways," he said. "It's not just one problem; it's multiple problems."
After a winter of accelerated weed growth from the rains, he worries about a return of INSV, which is spread by millimeter-long thrips that feed on vegetation such as weeds and transmit the virus to delicate crops, especially lettuce.
"We've had it every year for the last five years and we're already seeing it," Mason said. "How can we not have it? It's not a problem we can spray our way out of."
Early intervention and cool temperatures, which lasted this year well into the spring, are most effective to control thrips.
"Because of the cold, wet weather we had this winter, we are starting the season with a low thrips population, which should bode well for INSV risks," said Jennifer Clarke, executive director of the California Leafy Greens Research Board.
But there are still concerns as the season progresses. "The wet weather has presented challenges in weed management, and the management of weeds is a critical component to managing INSV," Clarke said.
Kelly of Boutonnet Farms is watching INSV and the fungus that causes verticillium wilt in lettuce, as well as water-mold threats from pythium wilt.
Pythium wilt and INSV can join forces to impact vast acreages of lettuce. In 2020 and 2022, the combination resulted in total crop losses for some Salinas Valley lettuce farmers.
Those crop threats complicate planting decisions, particularly when adding in flooding impacts, Kelly said.
"You go into a year to place crops where they will be best suited to withstand those pressures, and then you get a flooding event like you had this year and those plans go right out the window," he said. "There's ground this year I planned to get two crops on and I may only get one."
Instead of preparing fields in 60 days for a new crop, Kelly's teams are attempting to do it in 15 days, he said. This demands tinkering with blends of fertilizers and pesticides to nurture the new crop while the previous one is still decomposing.
"We're grading on a curve this year," Kelly said. "We have to look at things through the lens of, 'Yes, they don't look as good as I'm normally used to, given an extreme amount of challenges we have to work around.'"
Some smaller farmers do not have the same resources to facilitate speedy crop recovery, or any recovery at all, Groot said.
"Many of our growers are continuing to produce on fields that were not impacted by flooding, but many small growers and farms are not able to recover their losses in the same manner," Groot said. "Overall, we may experience some financial stress on these small farms as they work to get their fields back into production."
Groot said some smaller operations may have to lease out land to larger ones that can spread out costs over larger acreage.
After the string of catastrophic events, Kelly said he is encountering a new challenge in the marketplace: doubt. He is having to assure skeptics as he promises to deliver a successful crop.
"We've had a couple of folks come to us and say, 'We don't think there is any way you can make your (crop) commitments with all the damage that has happened,'" Kelly said. "My response has always been, 'Watch me.' We didn't get to where we're at by being quitters."
Mason of Nature's Reward also felt the heat in late April as he was moving forward with the saturated ground he had to work with.
"There comes a time when we run out of ground we can plant and it does worry us," he said. "But we are getting out in the fields. We are planting. We have contracts to fill for our buyers."
(Caitlin Fillmore is a reporter based in Monterey County. She may be contacted at cslhfillmore@gmail.com.)
Permission for use is granted. However, credit must be made to the California Farm Bureau Federation