Dairies are returning to work after floods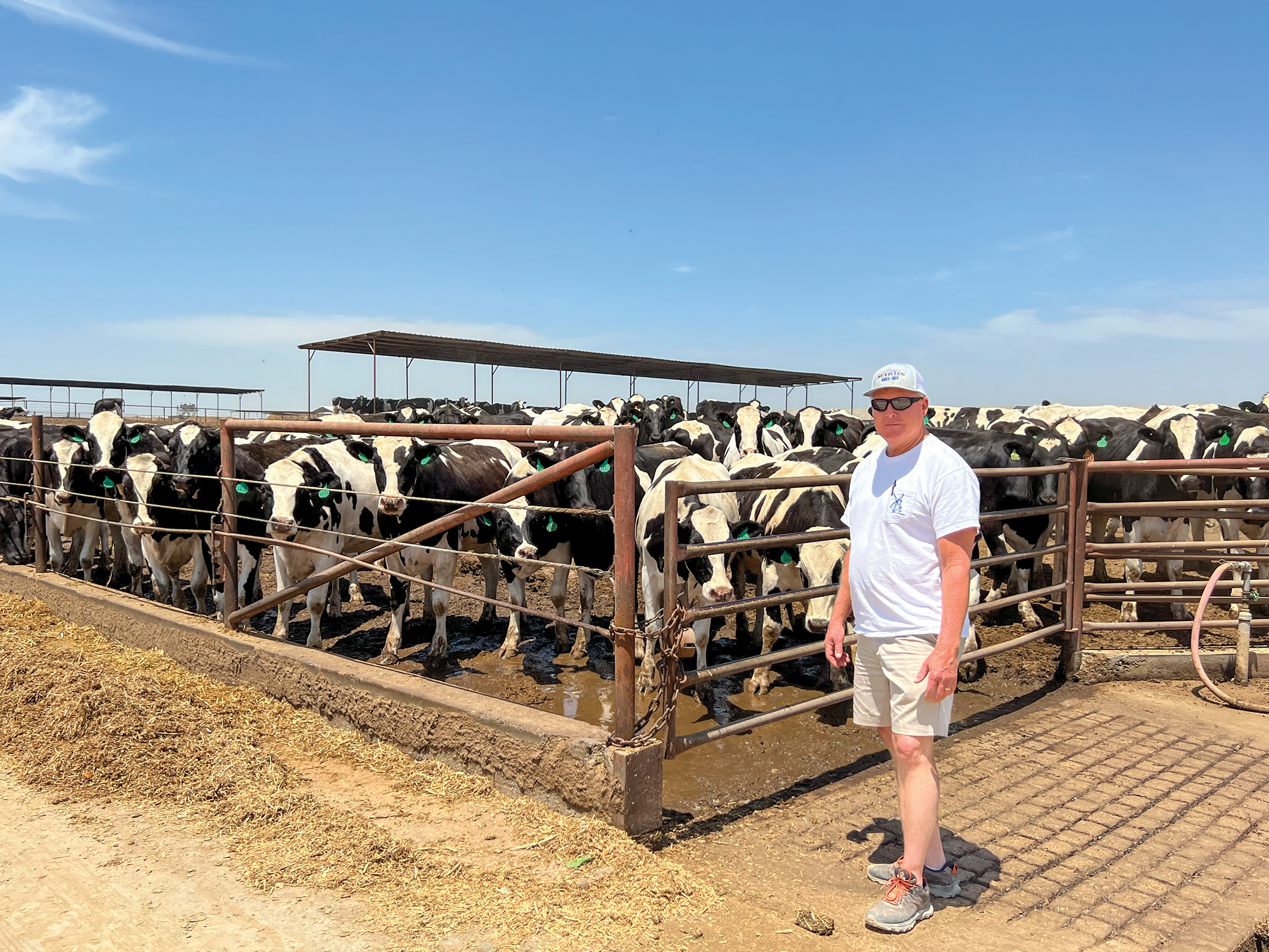 ---

By Lisa McEwen
Dairy operators in Tulare and Kings counties say they are thankful to return to the normal rhythms of feeding, milking and calving after historic flooding in March burst levees and forced dairies to rapidly evacuate their cows.
The resumption of dairy activities is welcome news in two neighboring counties where milk and milk products are top commodities. Tulare County is the state's leading milk and milk products producer. Kings County ranks fourth.
Peter de Jong, owner of Cloverdale Dairy in Hanford, evacuated 5,000 cattle over two days in pouring rain in March, a feat he and his staff say they never want to repeat. After spending most of April fortifying the Kings County dairy with 1.5 miles of elevated permanent berms, de Jong has slowly brought his livestock back. He said he expects his remaining 350 cattle to return soon from a relative's dairy.
With the waters of the resurgent Tulare Lake lapping a shoreline a few miles from his dairy, de Jong is cautious when speaking about the epic Sierra Nevada snowmelt. Some of that will flow into Cross Creek not far from his dairy. It is expected to peak in June and July.
"I just don't know what's going to happen," he said. "But at least this time we will have more time to react. Our berms will keep the water away. It all just depends on how fast the lake fills."
De Jong is a 10th-generation dairy farmer who moved from Southern California with his wife, Ingrid, in 1995. He recalls the Tulare Lake bed refilling in 1998. But he said, "I've never seen anything like this."
Although electric pumps continued removing water from low-lying land in front of the dairy, the regular tasks of running a dairy were on full display last week. Wheat silage and oat hay, planted late but growing on land that was not flooded, was being harvested. Six of the eight workers who had been laid off were back on payroll.
"We are farming, we are dairying," deJong said. He said he anticipates being back at full staff once the last heifers arrive.
About 1,000 acres are still too wet for planting. Additionally, he lost 2,200 acres of wheat that was being grown for silage when the fields flooded in March. During that time, he and his staff relocated 240 truckloads of hay to a neighboring dairy.
Manager George Wilgenburg was directing trucks at the entrance.
"We had cattle and feed trucks coming in and out in heavy rain," Wilgenburg said. "It was a total logjam of traffic. But fortunately, we didn't lose any cattle due to flooding."
To the southeast in Tulare County, dairy farmer Joseph Goni of Tulare was forced to evacuate his cows after Lake Success exceeded its capacity and a levee burst on the Tule River in the middle of the night. Now he is focused on recovery.
"It's been a roller coaster," said Goni, owner of Lerda-Goni Farms. "But we're getting there. The cows are back. Production is back somewhat. The cows are happy to be home. I'm happy to be home. All things considered, we're fighting one day at a time."
Goni, a fourth-generation dairy farmer, said he is navigating government assistance programs to try to recoup some of his losses amid harvesting wheat, paying bills for cattle hauling, repairing fences and fixing roads.
Geoff Vanden Heuvel, director of regulatory and economic affairs at the Milk Producers Council, a nonprofit organization representing dairy families throughout California, said while some challenges remain for impacted dairies and a few have ceased operations due to flooding, the rest of the industry continues to operate as normal.
"We are learning a lot from this wet year, and those lessons will be very valuable to all of us in the future," he said, adding that canal maintenance is a critical component of managing floodwaters and needs to be addressed.
Ten minutes west of Goni's family farm, the California Animal Health and Food Safety Lab in Tulare is also recovering after floodwaters inundated its two-story basement, which housed not only lab equipment but the building's operation control system.
Todd Cornish, branch chief, said the lab conducts livestock and avian testing and research, as well as the majority of the system's commercial dairy services. It was closed for more than a month. Local dairy operators had to turn to the Turlock or San Bernardino labs for help.
It has since temporarily relocated to its former site inside the Veterinary Medicine Teaching and Research Center, run next door by the University of California, Davis.
"The month that we were down, it meant that dairies did not have us within an hour or two of their premises when they were experiencing sick or dead cows," he said. "To transport them meant a lot more work for them."
To compensate, staff conducted phone consultations and started a field necropsy service with two teams.
"Life is a bit more challenging for dairymen and our staff in diagnosing animal health problems, but there is a big push to get us back up to speed as soon as possible," Cornish said.
He said evacuated cattle experience stress when moving from wet to dry conditions, which can open doors for disease. "We haven't seen any huge spikes yet in diseases," he said. "That's part of our job—keeping our eye out for any disease associated with flooding."
According to the California Dairy Quality Assurance Program, those diseases can include blackleg, anthrax and leptospirosis. Flooding can increase populations of nematodes and other parasites such as snails hosting liver flukes.
Kings County Farm Bureau Executive Director Dusty Ference said much more flooding is anticipated. More than 77,300 acres are underwater in the county, the majority of which is cotton, safflower and wheat ground. Including nonpermitted land, that number stands at 103,698 acres.
The Kings County Agricultural Commissioner's office estimated crop losses at $300 million.
"It appears that at least part of Tulare Lake will exist for the next year and maybe longer," Ference said. "That means far fewer planted acres and on-farm jobs. That will impact our local economy greatly. The cleanup after this is said and done is going to be a huge project with a huge price tag."
De Jong of Hanford estimated he spent at least $150,000 on dirt work during the past few months. Looking ahead, he said he will continue to check berms for seepage and be ready to evacuate if necessary.
"With lake bottom coming up, we have weeks to consider our plans," he said.
One solace is that he and fellow farmers have ample water for growing feed crops.
"It means we will have a ready supply of feed coming," he said. "We are able to restock on feed at more reasonable prices, putting some up for the lean years to come."
(Lisa McEwen is a reporter in Tulare County. She may be contacted at mcewenlisamarie@gmail.com.)
Permission for use is granted. However, credit must be made to the California Farm Bureau Federation