From the Fields - Stuart Mast
---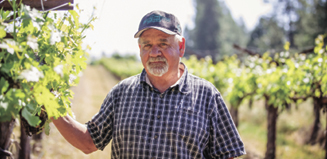 ---
By Stuart Mast, Calaveras County vintner and timber producer
The snowbank is so high that I can hardly see out the windows, which is really unusual. We've had back-to-back snowstorms, and that makes it nearly impossible to get much work done other than getting on the tractor and plowing snow.
I probably won't prune my vineyard until the second half of April. That's intentional because once you prune, the vines start pushing up. I'm trying to delay that as long as possible because last year I pruned earlier than normal, and we had 80-degree temperatures, and everything started growing. Then we had two nights of 26 degrees. I lost my entire crop for 2022.
I did have crop insurance. It was the first time in 30 years I ever bought crop insurance because the year before, I had some smoke taint, and I wanted to make sure any grapes I sold were covered. I bought crop insurance thinking smoke taint, and then I had the freeze. I'm filling out forms for the Small Business Administration emergency loan application for disaster, because at the first of the year, my tasting room flooded and had extensive damage.
Ninety percent of our winegrape sales are through our own tasting room. I usually sell part of my cabernet sauvignon grape crop to an Amador winery, but I may be keeping more this year because I've got to build my inventory back.
We also grow timber on the property that will eventually be sold. We've lost a lot of pines to the pine bark beetles. When beetles bore in through the bark, if they've got plenty of moisture, sap forces the beetle back out, and they don't kill off the tree. That's a major thing around here.
The saving grace is the snow on the ground. The rains are slowly percolating in and getting down deep where we need it and where it hasn't been for quite a few years.
Permission for use is granted. However, credit must be made to the California Farm Bureau Federation