From the Fields - Celeste Alonzo
---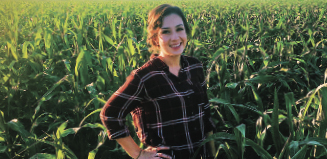 ---
By Celeste Alonzo, Riverside County vegetable grower
We finished our fall season at the end of November, early December. We then got the ground ready and planted corn in January. We're hoping to have our corn ready in time to sell at the Stagecoach (Festival) in Coachella in April. It's been really nice to have so many repeat customers. Even after last year, even after COVID, they still look for us.
We planted less corn due to cost. We're still trying to recover from COVID, which put a big dent into things. I'm working on supplying more local corn to vendors or restaurants here in the valley just to do more farm-to-table. We have a 120-acre ranch that's just bell peppers and corn. A lot of restaurants are doing cowboy caviar, so that is my goal with the bell peppers and corn.
I do feel sorry for the consumers because everything is so expensive. We have definitely seen the diesel increases, and the cost of fertilizer has been insane; it has gone through the roof and tripled, quadrupled.
To apply materials on our corn in Mexico, we purchased a drone. Now that I'm taking on more leadership in the company, I'm trying to aim more for new technology to help our business grow. I am working with the U.S. Department of Agriculture to improve our farming practices. Through the Environmental Quality Incentives Program, they will pay for some of the practices that we are already doing, so that will help offset some of our costs.
Water is still available. Working with USDA has helped us a lot to improve water conservation management. All our fields are on drip, which is saving us money. We haven't had any water cuts yet, but the water district is letting us know it is working to fallow more fields for three to five years. They are coming up with a program to encourage people to fallow.
Permission for use is granted. However, credit must be made to the California Farm Bureau Federation