Diesel phaseout worries compost dealers
---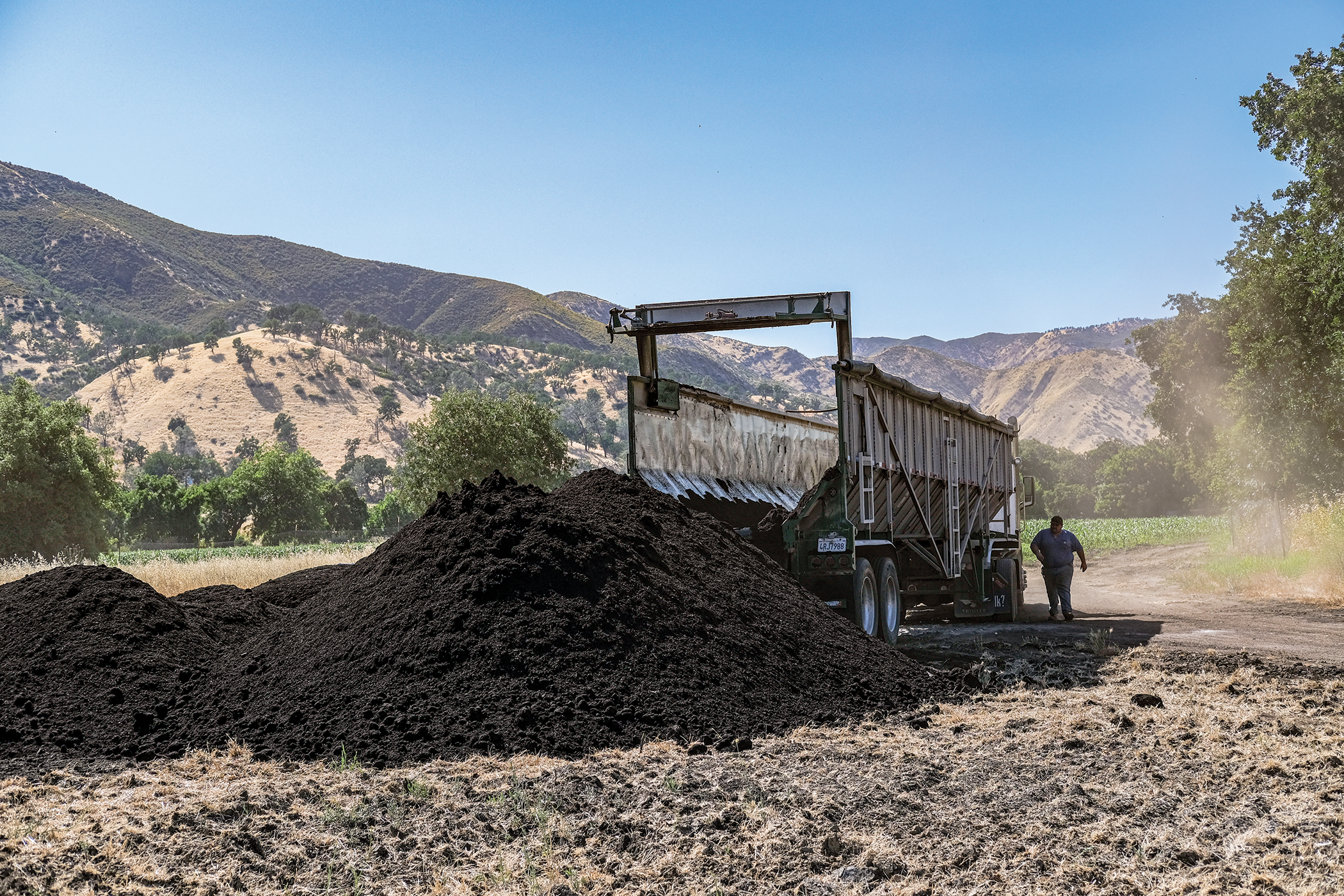 By Caleb Hampton
Daniel Pacheco, owner-operator of Lucky Diamond Trucking in Sonoma County, picked up a 24-ton order from Cold Creek Compost in Ukiah last week and hauled it two hours through Mendocino, Lake and Yolo counties before dumping the load near a corn field at Full Belly Farm in Yolo County.
The long trek was a routine journey. But new trucking rules may make such deliveries harder in the future, with major impacts for agriculture.
Compost is essential to organic farming, which is built on the "foundation that you're working with biological processes rather than chemical processes," said Paul Muller, a partner of Full Belly Farm, which grows organic nuts, fruits, grains and vegetables.
In place of conventional fertilizers, the nutrient-rich material, typically made of decomposed food waste, manure and other organic matter, is used to improve soil ecology and stimulate plant growth.
"We rely on it," said Javier Zamora, owner of JSM Organics in Monterey County.
In addition to benefiting farms, compost is central to efforts by California lawmakers to combat climate change. It plays a role in the state's goal to divert 75% of organic waste away from landfills, and in the Healthy Soils Program, which helps subsidize farming practices that sequester carbon in the ground, including composting.
But compost suppliers say they worry a separate climate-focused policy could make it harder for some farms to afford compost deliveries. In April, the California Air Resources Board approved a landmark rule banning the sale of new diesel trucks by 2036 and requiring most trucks operating in the state be zero-emission vehicles by 2042.
"This is an absolutely transformative rule to clean our air and mitigate climate change," said CARB Chair Liane Randolph. "We all know there's a lot of challenges, but those challenges aren't going to be tackled unless we move forward."
Farm and trucking groups have cautioned that insufficient charging infrastructure for electric trucks could leave fresh produce or livestock stranded in rural areas. As the diesel phaseout approaches, agricultural supply companies are also raising concerns.
Clayton Lynch, sales and marketing representative for Agra Marketing, a Butte County company that ships bioproducts such as compost and manure to farms across the state, said he believes the limited carrying capacity of electric trucks will drive up the cost of these inexpensive but heavy materials, impacting agriculture and especially organic farms.
"The value of the products themselves is very low, so the predominant cost is associated with transportation," Lynch said.
Batteries for electric heavy-duty trucks can weigh up to 16,000 pounds. Due to federal restrictions on how much a rig can weigh, the battery could reduce what a truck can haul by around a third, requiring more trips to move the same freight.
"It would raise the cost exponentially for all of these products that a lot of people who are environmentally conscientious are usually very excited to utilize," Lynch said. "It's a huge concern."
Pacheco of Lucky Diamond Trucking, whose family owns a Sonoma County dairy and a cheese company, made a similar price forecast. "It will skyrocket big time," he said, adding that freight costs are "a big deal when it comes to compost."
The truckload Pacheco delivered last week cost $1,825, a rate that included up to five hours of round-trip trucking.
Every year, Muller of Full Belly Farm applies 10 to 15 tons of compost to each of his 400 acres. "We do watch compost costs," he said, though next to other inputs, he added, it is one of many "escalating costs that are out of our control."
Muller estimated compost shipments account for roughly 2% of the farm's annual budget.
When looking at organic farming costs, "there are bigger fish to fry," said Zamora, who farms 200 acres and also spends about 2% of his budget on compost.
But for smaller farms, a markup on compost could put the soil amendment out of reach.
At Farmboy Organics, a 3-acre farm in Yolo County, Andrew and Eric Walker have held off on using compost due to its cost, though they say they plan to order some this winter.
"It's expensive," Andrew said. He projected a few truckloads would make compost "one of our larger expenses."
In multiple sectors that serve organic farms, questions linger about who will bear the financial burden of eliminating diesel.
"What are the costs going to be? Are we going to be able to pass that on to the customer? Farming is a tough industry," said Al Lopez, owner of Lopez Ag Service in Sacramento County, which supplies compost to farms in the region. "We could only pass so much of the cost on to the farmers."
California has budgeted more than $5 billion for the transition to cleaner trucks and buses. With 2,000 zero-emission medium-duty and heavy-duty vehicles on California roads this year and the rule expected to impact 1.8 million vehicles, much of that transition lies ahead.
Despite the state funding, Lopez said he fears a breakdown in the economic balance between farms, suppliers and trucking companies, with only the largest players able to absorb the cost of purchasing electric vehicles, hiring additional drivers and other expenses.
Considering the new investments required to make the transition and that the median age of a private fleet driver is 57, Lopez and Pacheco said many trucking operators have told them they will sooner quit the business than go electric, potentially worsening a driver shortage in the sector.
In several years, Lopez added, "you're going to have a hard time finding trucking companies, except the big ones."
For organic farms—and state agencies hoping to incentivize the use of compost— disruptions to the trucking sector could pose challenges.
"It's difficult to see agriculture's transition away from diesel," Muller said. "It's going to be complicated."
(Caleb Hampton is an assistant editor of Ag Alert. He may be contacted at champton@cfbf.com.)
Permission for use is granted. However, credit must be made to the California Farm Bureau Federation