Grape growers turn to sap sampling to monitor crop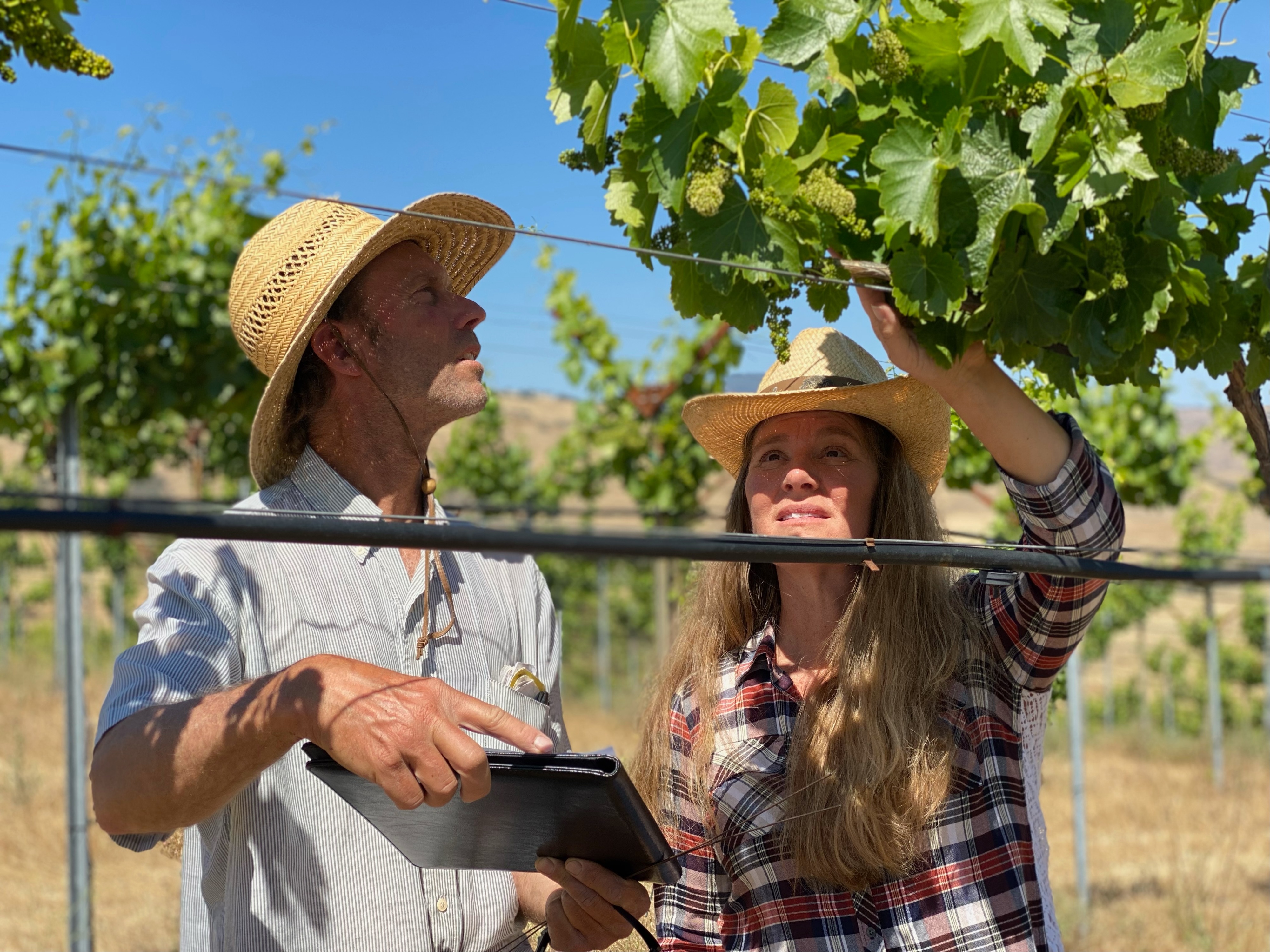 ---

Jenny Hansen Garley, chief science officer at New Age Laboratories, checks vines with Kelly Mulville, vineyard director at the Paicines Ranch Learning Center, as part of a sap sampling workshop last June.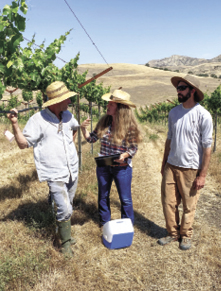 ---
By Lisa McEwen
Grape growers looking to build a nutrition program or check progress of their crop have traditionally relied on dry leaf tissue or soil tests. But many are now incorporating sap sampling as a way to get a faster and clearer picture of what's happening in the vineyard.
Sap sampling is a relatively new analytical tool that provides a full spectrum of a plant's nutritional status, with results typically delivered within 24 hours. This allows farmers and crop advisors to quickly determine their next steps in the growing season.
The proactive approach helps to determine what nutrition to apply and what to avoid, streamlining applications and reducing unneeded, expensive inputs. Ideally, this leads to improved quality and higher yields.
Sap sampling can be used for all crops. Its use in cultivating a wine, raisin or table grape was discussed during a panel presentation at the Grape & Wine Show held in Tulare last month.
"It's an emerging technology that holds a lot of promise," said panelist Jerel Kratt, CEO of Regenerative Crop Consulting. "It is becoming a mainstay in my program and a good addition to soil and tissue tests."
Soil tests give growers insight into what nutrients are available in the ground for plants to absorb, providing a prediction of how the plant might react. A dry tissue test tells growers what the plant has historically absorbed over time. Sap analysis is an overall snapshot of what nutrients are flowing through the plant at the time the sample is taken.
Sap testing analyzes a pair of young and old leaves with petioles attached, each in a labeled, separate ziplock-style bag. Samples are taken in the morning before temperatures reach 80 degrees and then kept in a cooler before overnight shipping. Average cost is $70 per sample, which includes shipping.
Jenny Hansen Garley has worked in sap testing for nine years, the last three as chief science officer at New Age Laboratories. In those three years, the company's sap sampling business has tripled.
"Growers and consultants alike are using sap and normally are asking one or two questions," she said. "But the amount of information you get back is tenfold. I believe it's growing so rapidly because you get so many other questions answered that you weren't even asking. It gives growers a more granular view of what is happening in their vineyard."
This allows growers to be proactive in their nutrition program much more quickly than waiting two weeks for soil or tissue results. Garley said a benefit is that sap sampling can provide insight long before visual cues become apparent in a vineyard and can help farmers apply only what nutrients the vineyard needs.
"A lot of people use sap to reduce inputs," she said. "This allows farmers to rearrange their dollars and put them toward a management strategy that better suits their budget."
Kratt said sap sampling is key for those pursuing regenerative agricultural practices and looking to reduce the amount of synthetic nitrogen fertilizers applied to their crops.
"Our goal is to improve soil health," he said. "Look at the cost of nitrogen—there is no better time than now to look at alternative methods to improve vine health, the quality of grapes produced and yield."
Kingsburg farmer Steve Fukagawa has employed sap testing in his organic stone fruit orchards for several years and will use it on a new vineyard development this spring.
"As they come up, I will be giving them everything they need for a good, strong root system, especially in their first year as the leaves come out and emerge," he said. "The sap analysis helps me determine how and what to spray. It is a very accurate method of testing."
Hanford winegrape grower Mary Lou Silveira attended the Grape & Wine Show to earn continuing education credits and to expand her knowledge of nutrition programs for her vineyard. She said she is thinking about adding sap testing to her routine in 2023, starting with one block. If the results and ensuing changes made to her nutrition program are beneficial, she will consider using sap testing on all of her blocks.
"It is a big learning curve for me, but maybe it will be another tool for the toolbox," she said.
Larry Bettiga, University of Califoria Cooperative Extension viticulture farm advisor, encourages growers to conduct soil, leaf or sap tests at least two to three times during the season at a consistent time and location in the field, building historical data for reference. This will help farmers better understand their vineyards, ideally increasing yield and productivity.
"Newer technologies have a lot of promise," Bettiga said. "What is important is building a database to make you feel comfortable. You always want to be in an optimal zone and not apply more nitrogen than you need to."
He added, "It is important to look at all the factors that are in play," including weather, location and rootstocks.
Rootstocks were a topic that yielded significant discussion among Grape & Wine Show panelists, including Helena Chemical agronomist Paul Crout and Kern County viticulture advisor Tian Tian. Nutritional uptake is different for the many varieties found in California vineyards. Kratt said sap analysis is helpful in this arena.
"Sap analysis was the one tool that actually spelled out the differences of rootstocks more than any other tool I have seen," particularly with salt, iron and magnesium, he said. "Always separate your rootstocks block for sampling. It will tell you a lot more about what's going on in the vineyard. I think it's critical."
(Lisa McEwen is a reporter in Tulare County. She may be contacted at mcewenlisamarie@gmail.com.)
Permission for use is granted. However, credit must be made to the California Farm Bureau Federation