Commentary: A 'farmer envoy' gets a voice at global climate event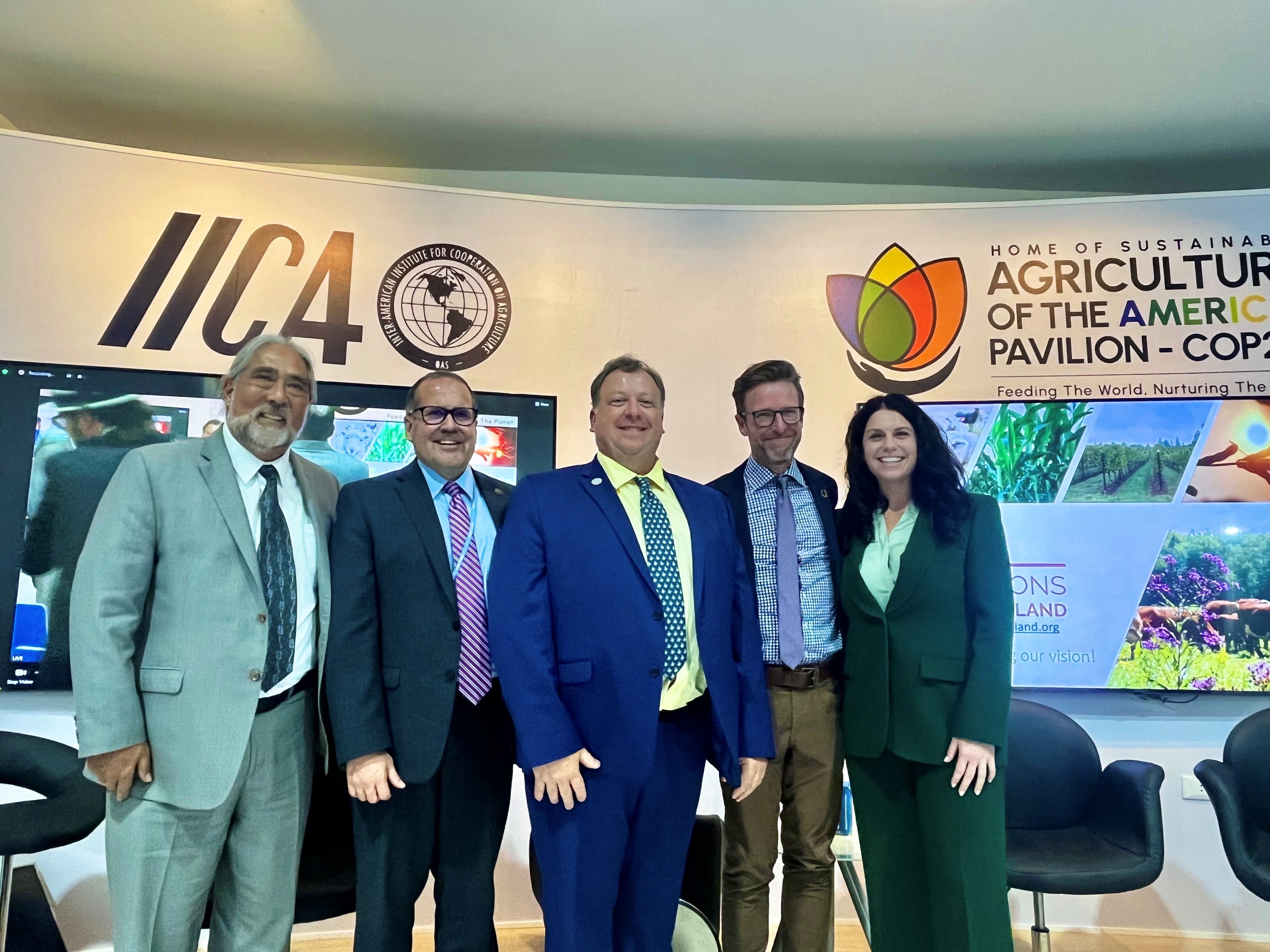 ---

Former CDFA Secretary A.G. Kawamura, Lloyd Day of Inter-American Institute for Cooperation on Agriculture, Arkansas farmer Brad Doyle, John Farner of Netafirm and California farmer Jocelyn Anderson gather at the United Nations Climate Conference in Egypt.

---
By Jocelyn Anderson
In the middle of walnut harvest, I received an email confirming my invitation to the United Nations Climate Change Conference, or COP27. When I received the notification, I was excited to represent California agriculture on an international level. Then again, I was just a small family farmer of almonds and walnuts suddenly getting ready to travel to Sharm el-Sheikh, Egypt.
In the U.S., I had served in leadership positions with the Young Farmers & Ranchers program for the California Farm Bureau and the American Farm Bureau Federation. Yet, too often, the voices of agriculture have been excluded at global climate events. This time, agriculture and food-security issues were getting prominent attention.
Earlier this year, I was honored by being named one of eight new "farmer envoys" for Solutions from the Land. The organization, co-chaired by former California Department of Food and Agriculture Secretary A.G. Kawamura, works to bring farmers and ranchers to the table in international discussions on climate change to promote sustainability and climate-smart agriculture.
As a rural farmer from Northern California, I didn't know whether I could make a difference at such an event. I just knew I had to participate.
I arrived in Egypt to join in two panels, "Water is the Face of Climate Change" and "Circular System Pathways for Scaling Climate-Smart Agriculture." The overall experience was inspiring and eye-opening. I connected with fellow farmers from across the Americas and with attendees from around the world. Together, we amplified a common theme: that local, state and national governments and, yes, international bodies can work with farmers and ranchers—and not against them—on climate change issues.
We shared a belief that there is no one-size-fits-all solution for our challenges as farmers and ranchers, especially given the diversity of agriculture around the world. But we can work on solutions that apply to different growing regions, crops and livestock.
In meeting conference attendees and listening to panels, I heard differing points of views from farmers and agricultural corporations.
The first session I attended, hosted by the Food and Agriculture Organization of the United Nations, was moderated by current CDFA Secretary Karen Ross. There, a farmer from Egypt named Helmy Abouleish, who grows organic vegetables, spoke about continuing his father's legacy and how he could envision the entire world being fed by organic agriculture.
While his enthusiasm was inspiring, I sensed his belief in such a dramatic farming transition was risky. We as farmers are being called upon to double our food production globally so that we can feed 9.5 billion people on the planet by 2050—something I believe is unlikely to happen by going all organic.
I also heard from Chandrika Ben, a farmer from India who grows cotton, vegetables and small grains on a farm her father started. Women in India comprise most of the farm workforce but only a small fraction of farm owners. She works with a foundation that helps women farmers obtain credit and assists 5,000 small growers in 30 villages with technology and nature-based practices to improve food security and nutrition. It was captivating to learn of such efforts to help farmers with far fewer resources incorporate smart-farming practices.
During COP27, one topic was mentioned constantly: carbon credits. I was intrigued to hear from large corporations such as Rabo Carbon Bank and Nestlé as representatives spoke of working with farmers to produce a global carbon credit system while accelerating sustainable food production. Discussions focused on how such systems must be easily understood, accessible and affordable for farmers and ranchers. That hit home with me, considering the many challenges farmers face in navigating government grant programs, carbon credit incentives and rules for curbing greenhouse emissions.
Agriculture was celebrated in the first-ever international "Agriculture Day" at COP27, with sessions on everything from promoting soil health to enhancing agricultural production amid global food challenges worsened by inflation, supply-chain disruptions and the war in Ukraine. Only in the past five years has agriculture had a seat at the table at this climate event. It struck me how important it is for farmers to always be included.
I came away from the conference understanding that agricultural voices, including family farmers and ranchers, must be ever-present locally and globally now and for generations to come.
The next time you are offered an opportunity to represent your farm or agricultural community, take it, for we represent the future of agriculture, and the issues of farming don't stop at our county lines, or our state or national borders. We need farmers and ranchers in all levels of discussion, and you never know when saying "yes" can lead you to advocate for your farm or for agriculture around the world.
(Jocelyn Anderson recently served as the state committee chair of the California Farm Bureau Young Farmers & Ranchers program. She may be contacted at jocelynkanderson@icloud.com.)
Permission for use is granted. However, credit must be made to the California Farm Bureau Federation