Farmers get help transitioning to organic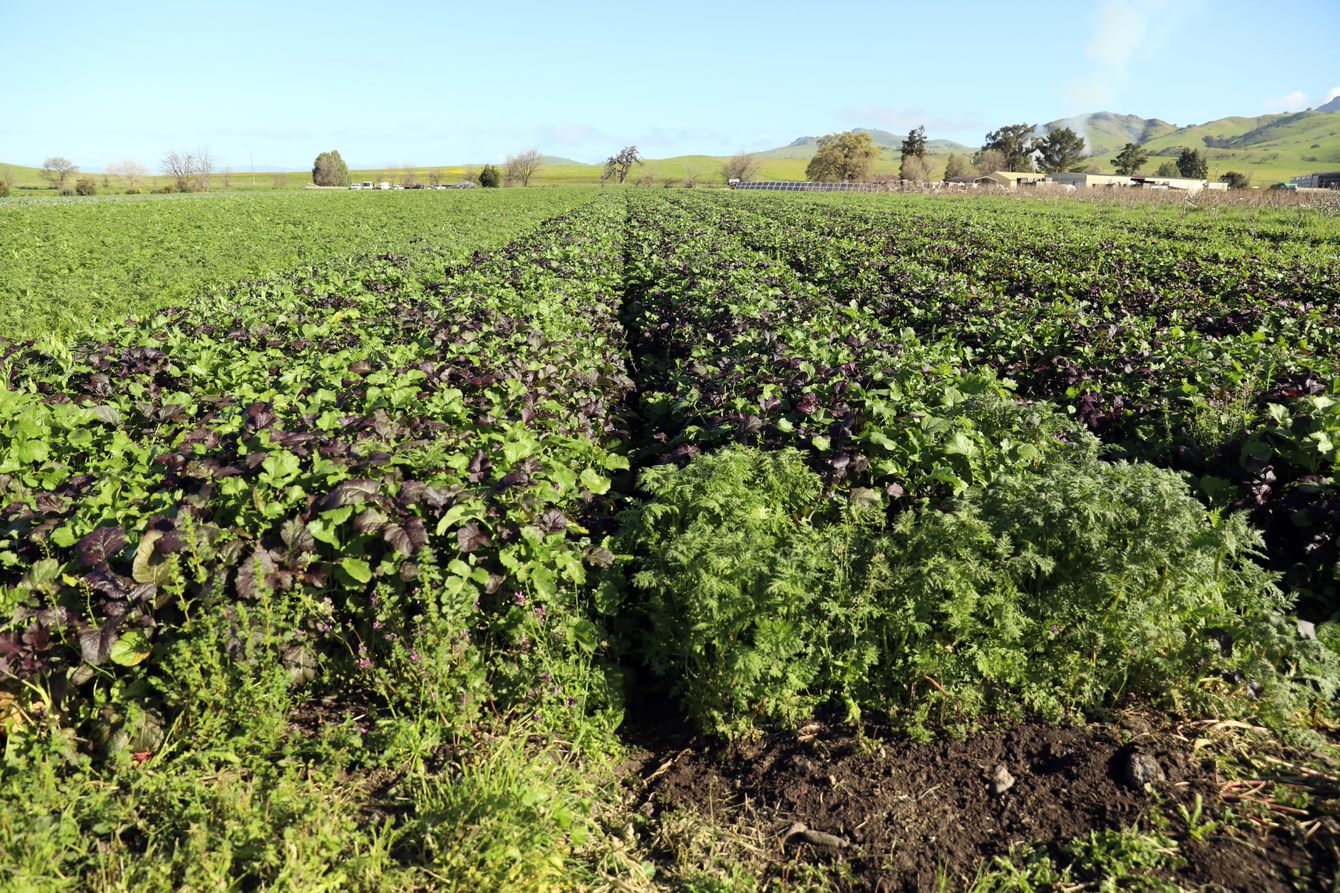 ---

By Ching Lee
If it weren't for his "dumb mistake," Sonoma County winegrape grower Andrew Furlong's 20 acres of zinfandel would be certified organic by now.
But last year, he cleaned his drip line with a product that postponed certification on his vineyard. The acid cleaner he used was advertised as "all natural" and "organic." But because it wasn't certified organic, he said, it was considered a prohibited material. It set him back two years.
To be certified organic, producers must go through a three-year transition in which they stop using synthetic fertilizers, pesticides and other prohibited materials on their land while they implement other organic practices. Farmers say this transition period remains one of the biggest hurdles to becoming certified organic because they lose yields, yet their crops can't command the price premiums of organic products.
"Farming organically is more difficult," Furlong said. "The fertilizers aren't quite as effective. We have less tools to combat pests and disease. Then there's the certification process, the usual red tape."
Because of the product mishap, Furlong had to start over. His organic status remains "transitional." But under an agreement, the winery that buys his grapes pays him a higher price during the transition. That's one of the advantages farmers seek when they enroll in a certified transitional program, which has been described as "organics in training."
Santa Cruz-based California Certified Organic Farmers is one of several organic certifiers nationally that offers such a program. CEO Kelly Damewood said CCOF works with transitioning growers from the outset to make sure they're learning how to keep proper records, build soil health and not apply prohibited materials.
Farms enrolled in CCOF's program undergo annual inspections during the three years to verify they're complying with federal organic regulations. They also pay the same inspection fees as certified organic operations. CCOF requires one year of transition before crops can be sold as certified transitional. Farms are recognized for efforts to farm organically during the transition, but they can't represent their crops as organic.
Damewood said the program's focus is not about having a "consumer-facing label" at the retail level so that farmers can fetch a higher price for their products. But she said some growers do use such a label in direct sales, such as at the farmers market. More often, the program is meant to help transitioning growers obtain a premium through a direct arrangement with a handler-processor-buyer, she said.
Though "certified transitional" labels have not taken off at the retail level, at least one company—the cereal maker Kashi—has been using and promoting it. The company sources wheat from transitional farms. By supporting certified transitional crops, the company said on its website, "we are helping to create a marketplace to drive more organic farmland."
As the organic market continues to grow, the push to increase the supply and availability of certified organic products has picked up momentum. Organic food sales rose 2% between 2020 and 2021, according to the Organic Trade Association, but less than 1% of U.S. farmland is organic. The number of farms actively transitioning to organic production dropped by nearly 71% since 2008, according to the U.S. Department of Agriculture.
To help farmers through organic transition—and to encourage others to take the plunge to convert to organic—USDA in August said it would invest up to $300 million in a new Organic Transition Initiative that's meant to help build markets and income streams for farmers.
As part of the initiative, groups such as CCOF are working to build programs to help transitioning farmers, facilitate farmer-to-farmer mentorship, create markets that can absorb transitional crops, and provide technical support and grant funding.
Though the initiative is not focused on creating a national "certified transitional" label, the Organic Trade Association continues to urge USDA to establish a program that would conform standards for transitional certification so that third-party-verified private labels could be developed.
In a letter to USDA last month, association CEO and Executive Director Tom Chapman said various organic certifiers already offer transitional certification programs, but they lack harmonization and consistent oversight.
USDA approved a national certified transitional program in 2017 and began accepting applications from certifiers, but the department withdrew the program months later with no explanation.
OTA maintains that "creating a viable end market for transitional products is the soundest way to lower financial risk and increase business incentives to purchase transitional products," the association said in an email to Ag Alert®.
A University of California study found that because few consumers know what "certified transitional" means, some view products with the label as lower quality than products grown conventionally. As a result, some producers "may opt for other more established and well-known certifications," such as Non-GMO Project or Certified Pesticide Residue Free, "to market their products and obtain price premiums during the transition period," wrote Ashley Spalding, author of the study.
CCOF's Damewood said she thinks there's "a lot of value" in certified transitional programs to allow growers to earn a premium from processor-handlers, but trying to educate consumers at the retail level about what the term means would be a challenge. "I think there's valid concerns that it could lead to consumer confusion," she said.
She acknowledged the market implications and potential impact to the price of organic products as more transitional organic products compete with certified organic products. But she said CCOF's vision "is a world where organic is the norm."
Yolo County farmer Paul Muller said all farmers, whether they're organic or conventional, worry about overproduction and how it drives down prices. But as someone who's been farming organically for more than 40 years, he said he believes in the ecological benefits of organic farming. As such, he said he doesn't want to exclude other farmers from entering into organic production.
"I think it's really important that we keep growers producing and getting into the market, so the market continues to expand," Muller said.
At the same time, he said he wants the organic marketplace to maintain its high integrity and for transitional labeling to be clear, formalized and codified with proper oversight.
"What's really important is that there are trusted labels in the marketplace that consumers can look for," he said.
(Ching Lee is an assistant editor of Ag Alert. She may be contacted at clee@cfbf.com.)
Permission for use is granted. However, credit must be made to the California Farm Bureau Federation