Legacy farmers get their induction into state history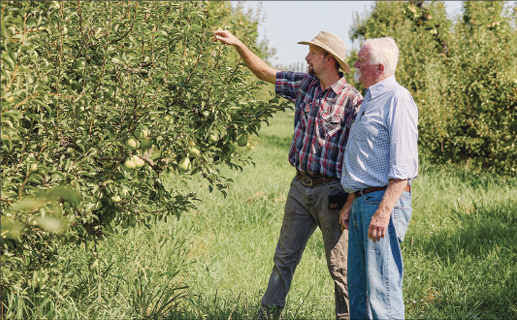 ---

By Kevin Hecteman
For 174 years, pears have grown near Steamboat Slough along the Sacramento River—and six generations have tended to them.
"Farming is a long-term proposition," said Sacramento County farmer Tim Neuharth, who represents the fifth of those six generations. "You're not in it for a year or two."
Some families in California have been in it for well more than a year or two—try a century, or nearly two of them.
Seven of those legacy family farms and ranches and two county Farm Bureaus have been honored for their historic service to agriculture.
The California Agricultural Heritage Club began recognizing longstanding family farms and related businesses in 1948, the centennial of the Gold Rush's beginnings. Farms, ranches and related businesses and organizations are inducted when they reach 100, 125, 150 or 175 years of operation.
The most recent inductees were announced at the Heritage Club's breakfast July 20 at Cal Expo, home of the California State Fair, in Sacramento.
"As we move forward and fewer farms and ranches have family continuing on, it's even more important that we recognize and instill the importance of people, the farms and ranches, and ag businesses in operation," said Judy Culbertson, chair of the Heritage Club and executive director of the California Foundation for Agriculture in the Classroom.
Neuharth said he's thankful that "California Farm Bureau is recognizing the heritage farms, because farming is a very tough profession. It's got challenges that most people wouldn't want to face."
Neuharth's family farm, Steamboat Acres, is the oldest of the three inductees into the 150-year club; the original family moved west in 1848 for the Gold Rush and bought land the Neuharths still farm today because of its rich soils and easy access to river transportation.
Tim's son, Michael, used a thoroughly modern expression to describe his feelings: "The correct word for me is that's pretty rad," the younger Neuharth said.
Steamboat Acres was originally planted to pears and cherries, along with wheat and barley. The farm still has pears and cherries, along with winegrapes, grains and Michael's custom work on other farms.
Two ranches dating to the early 1870s also joined the 150-year club. One of them, Dudley Ranch in Tulare County, got started in 1871 when Moses and Sarah Dudley moved from Minnesota in search of a milder climate.
"Have you ever been to Minnesota in the winter?" asked their great-granddaughter Sally Dudley Baker. "Don't go."
Today, Baker and her husband, Terry, run beef cattle on the ranch.
"We just really appreciate that they honor farms and ranches, because, unfortunately, today, so many people just take their food for granted," Sally Dudley Baker said. "If you go back 150 years ago, can you imagine my great-grandparents were like, 'OK, so where do we get our next meal from? There's not a grocery store down the street.'"
Another Heritage Club inductee, the Hindley Ranch in Humboldt County, was established in 1872.
"We had sheep out there for many years, until the coyotes and everybody moved in," said David Hindley, the fourth generation of his family to farm the land. "We had to switch gears to something else. We're now farming wheat," which goes to local distilleries and breweries to become adult beverages.
Three Hindley families now run the ranch as a partnership, said Hindley, who hopes to someday pass the farm down to his grandchildren.
"It's a beautiful area," he said. "We don't want to give it up. We're going to stay there." In addition to wheat, he said he's thinking of trying his hand at growing pistachios.
Inductees also included Nichelini Family Winery in Napa County, founded in 1890, and Farley-Erickson Ranch in Marin County, Kerr-Koontz Farms in Yolo County and Meissonnier Ranch in Merced County, all founded in 1897.
Two county Farm Bureaus are also newly celebrated members of the 100-year club: the Merced County Farm Bureau, founded in 1917, and the Solano County Farm Bureau, in business since 1915. Breanne Vandenberg, executive director of the Merced County Farm Bureau, said it's "an honor" to be inducted.
"We appreciate the recognition for the work that we do on behalf of local agriculture," she said. "We would like to continue to do that for another 100 years or more."
At the Heritage Club event, many wondered what the next century would look like.
"It gets harder and harder every year," Sally Dudley Baker said. "You didn't have all these rules and regulations and taxes that you have now." Even so, she added, "we keep plugging along. I think that's what my family would have wanted, so I keep doing it."
Terry Baker, former president of the Tulare County Farm Bureau, said he is concerned about water storage to sustain farming. "Without some more water in the state, we're toast anyway," he said.
Vandenberg also said water is a major priority—and "a huge one for any county Farm Bureau." Meanwhile, she is currently helping farmers affected by another threat: the Oak Fire in nearby Mariposa County.
The Neuharths say their biggest challenge is a bumper crop of bureaucracy.
"We farm a little under 300 acres," Tim Neuharth said. "For the small farmer to deal with all the paperwork and all of the requirements...it's very difficult." He retallied up the number of regulatory agencies he deals with and came up with 32.
Michael Neuharth added that "trying to find new ways and more efficient ways of doing things is ever, ever so demanding." He said he hopes his children will become the seventh generation on the farm.
"We're still plugging away, trying our best to make this thing work," Michael Neuharth said. "And we're trying our best to retain it for the next generation the best way we know how."
The California Agricultural Heritage Club is sponsored by California Farm Bureau; Farm Credit; The Zenith; and Friends of the California State Fair.
(Kevin Hecteman is an assistant editor of Ag Alert. He may be contacted at khecteman@cfbf.com.)
Permission for use is granted. However, credit must be made to the California Farm Bureau Federation