Commentary: Farms rallied in crisis but still need workforce help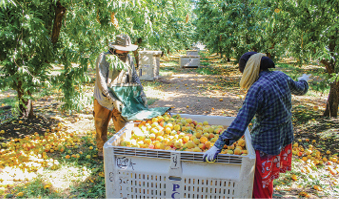 ---

By Matthew Viohl
Before the COVID-19 pandemic, California's agricultural employers were facing significant workforce challenges. In studies conducted with the California Farm Bureau in 2017 and 2019, more than half reported that they simply couldn't find enough people to fill farm, ranch and other agricultural jobs.
Would the pandemic make things worse? According to a new survey the Farm Bureau initiated in partnership with researchers at the University of California, Davis and Arizona State University, the overall percentage of employers unable to fill all of the positions needed for their primary crops actually may have trended slightly downward. But that doesn't mean the hiring picture improved.
In the survey, nearly 1,000 farmers and ranchers from across California responded to questions on worker availability during the pandemic as well as whether they were turning to mechanization due to a lack of available employees.
Some 45% of growers—who rely heavily on readily available workers—reported that they couldn't find the people they needed for production of their main crops in the 2020 season.
Of those experiencing shortages, 55% cited the pandemic as a direct or indirect reason for a lack of workers. That number may seem low, particularly given the devastating impact the pandemic had on businesses that lost significant revenue or were forced to shutter during its worst days.
But agriculture was different. It was deemed essential, counted on in a major way to continue producing food in as unfettered a manner as possible. While benefitting from work that is mostly conducted outdoors, farmers and ranchers were among the first employers to implement new protocols, including distributing personal protective equipment to safeguard employees and help ensure our food supply chains remained operational.
For agricultural employees who had direct or indirect workforce impacts from the pandemic, several reasons were given. Just over half of respondents cited shortages resulting from workers being sick with COVID-19 or exposed to someone else who was infected.
Some 22% had a family or household member in need of care due to the virus, while 29% had employees who were unable to work due to lack of available childcare options.
Meanwhile, 9% of respondents reported that unemployment or pandemic-related benefits resulted in fewer interested workers. Some 12% said they had employees who reported heightened medical risk factors for COVID-19 or merely feared exposure on the job.
The hiring conditions remained relatively static for most farmers in 2021 as well, as 55% of those experiencing shortages in 2020 said they had similar issues in the following year. A greater number of employers (21%) reported hiring fewer workers last year than those that hired more (17%).
Workforce challenges often impacted the bottom lines for producers. And though the worst pandemic impacts may have ebbed, the labor pool shows few signs of growing anytime soon. As a result, some farmers are turning to new technologies to help cover the continuing workforce gap.
Some 23% of those surveyed said they implemented new labor-saving technologies in 2020. These ranged from mechanical harvesters to updated irrigation equipment and other improvements.
Under this survey form, its question "tree" meant that not all respondents got the same questions. Only about one-fifth of those surveyed were asked why they utilized any labor-saving technology. Of that group, over 80% cited "rising labor costs" as a reason.
Some of the data gathered may come as no surprise to farmers and ranchers. After all, many have dealt with these issues firsthand.
But these statistics may serve to educate people outside of agriculture about the workforce challenges faced by our food producers. The information is valuable as well for lawmakers and state agencies.
While the expansion of new technologies will always be a goal for our industry, purchases of mechanical harvesters and autonomous vehicles require substantial capital investments. Not all farming operations can afford to rely on such investments to cover for an increasingly aging and shrinking workforce. In addition, some commodities must always rely heavily on hand-picking and other manual operations.
The California Farm Bureau is committed to raising awareness in Sacramento and Washington, D.C., in advocating for pushing for solutions that address these critical issues of labor shortages.
California accounts for one-third of all agricultural workers in America, and yet our hiring ranks remain insufficient. With the billions of dollars in food we produce for California, America and the world beyond, we know well the importance of a robust farm workforce.
(Matthew Viohl is associate director of federal policy for the California Farm Bureau. He may be contacted at mviohl@cfbf.com.)
Permission for use is granted. However, credit must be made to the California Farm Bureau Federation