Lodi vineyards create a brand in farm sustainability
August 10, 2022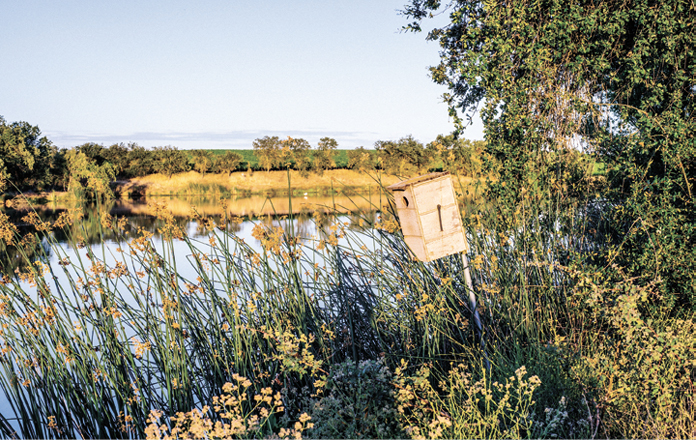 ---

By Bob Johnson

Growers of vineyards in areas of San Joaquin County near Lodi have spent decades building the Lodi Rules brand by improving environmental and social practices and building relationships with wineries that share their commitment to sustainability.
The program is viewed as a business success, as the value of the crop has increased along with the reputation for quality and sustainability.
When the Lodi Rules Sustainable Winegrowing Program was created in 1992, San Joaquin County farmers were growing 33,400 acres of winegrapes, according to the county crop report. By 2020, the county's farmers were producing 91,200 acres of grapes—and their price per ton had more than doubled.
Lodi Rules, a voluntary initiative designed by farmers, was established to help fellow farmers improve their operations. Based on viticulture research and insights from farmers, scientists and environmentalists, the program is a centerpiece for promoting sustainable farming practices.
Growers enrolled in the program commit to conserving water, improving soil quality, managing pests with a minimum of pesticides and maximum attention to bird and wildlife habitat, and building relationships with their workers and winery customers.
The spirit behind Lodi Rules is a commitment to leaving the soil, water and business resources of area vineyards in better shape for their grandchildren, according to the program.
"We're generational farmers," said Aaron Shinn, vineyard manager for Round Valley Ranches, owner of the management firm Shinn Farms and president of the Lodi Winegrape Commission. "We want to farm in a way that will not prohibit future generations of our family from doing the same thing for a living."
The Lodi Rules binder includes hundreds of standards to help growers evaluate and improve their operations in business, human resources, ecosystem management, and soil, water and pest management.
But the spirit is to achieve sustainability in all these areas that are third-party verified by Protected Harvest, a nonprofit organization that certifies sustainable agricultural practices under the Lodi Rules program.
"It's a holistic approach," Shinn said. "The labor force, water and pest management all come together."
Shinn manages 3,000 acres of vineyards enrolled in Lodi Rules and said he believes the effort represents a commitment to sustainability that is now expected by consumers and embraced by wineries.
He has seen the Lodi Rules program expand from a few thousand acres in 2005 to more than 60,000 acres and growing.
The geographical reach has also expanded as Lodi Rules includes vineyards in Oregon and Washington, and even one vineyard in the Golan Heights region of Israel. The program has also drawn interest from growers in South America.
Wineries that buy grapes from certified sustainable winegrowing vineyards frequently offer tangible support.
"More and more, the wineries we do business with say they will give us a bonus," Shinn said. "The bonus is an added thing; sometimes it's $25 to $100 a ton, but we didn't want to miss the train."
The 144-page Lodi Rules binder includes a list of practices that can improve vineyard operations in specific ways.
"Cover crops help to break up the soil for us," said Phil Abba, whose family enrolled 62 acres of grenache and syrah in the Lodi Rules program three years ago. "We planted a mix of annual and perennial rye, and brome. If I'm able to disk easier, I figure water penetrates better, too. I've also used triticale with pretty good results."
Abba said he has witnessed measurable performance improvements from implementing practices in the irrigation section of the manual.
"Our irrigation system has also improved," Abba said. "We used to have 80% efficiency, and now we're in the 92% to 94% range."
He is among winegrape growers who have found certified sustainability resonates with local wineries that buy their grapes.
"It definitely helps to sell the grapes," Abba said. "If it's not organic, the wineries definitely want sustainable."
Because the manual was developed by grape growers rather than regulators or university researchers, the rules are in a language accessible to farmers, he said.
"The program is farmer-friendly," Abba said. "It was put together by farmers, so it's easy for me."
Madelyn Ripken Kolber's family was among the pioneers building Lodi's reputation for premium wines.
She first enrolled in Lodi Rules in 2007 when she was pregnant with her first child. She views the program as a generational commitment.
"It's a mindset we've adopted to improve our soil and conserve our water," she said.
Kolber's family has had winegrape vines since the 1950s. Her parents graduated from the University of California, Davis, viticulture program, and they helped trailblaze the way to establish premium wine as the most important agricultural product in the Lodi area.
"My parents converted row crops, like corn and tomatoes, to vineyards after they graduated," she said. "They helped start the idea that quality wine could be grown in Lodi."
Kolber said commitment to sustainability appeals to the wineries that buy the grapes.
"It's opened the door to like-minded wineries," she said. "Sometimes sustainability is the first thing they ask about."
Although the process of getting vineyards certified sustainable by Protected Harvest grows easier after the first year, Abba said, the process of learning about sustainability never ends.
"I feel like I'm a youngster in this," he said, "even though I'm in my 60s."
(Bob Johnson is a reporter in Monterey County. He may be contacted at bjohn11135@gmail.com.)
Permission for use is granted. However, credit must be made to the California Farm Bureau Federation