Commentary: When there is smoke, key actions protect employees
August 10, 2022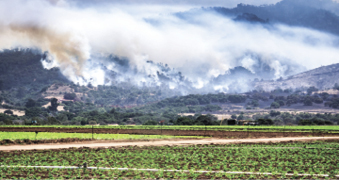 ---
By Bryan Little
As of this writing, one major wildfire—the McKinney Fire—was devouring vast acreage in Siskiyou County. Another, the Oak Fire, was nearing containment after exploding in Mariposa County as the second big fire near Yosemite in just two weeks.
To a greater degree than ever, California's wildfire season overlaps with California agriculture's heaviest harvest periods. Deepening fire dangers—and perpetually longer fire seasons—add urgency as California's agricultural employers strive to protect their workforce from smoke.
Our farms and ranches seek to safeguard employees from potential health effects by providing protections in full compliance with regulations of the California Division of Occupational Safety and Health.
When tiny airborne particulates known as PM 2.5 are generated by wildfires, an Air Quality Index reading measures exposure risks. When the AQI exceeds 150—considered unhealthy for the general population—farm businesses should anticipate employees may be exposed to risk from wildfire smoke. Under Cal/OSHA rules, that requires specific actions to protect them.
First, employers must determine whether harmful exposure to wildfire smoke could occur before the beginning of the work shift and periodically throughout the day. They may use available air quality measurement instruments to ascertain the AQI at the worksite. They also can get information from local air quality management districts, the Environmental Protection Agency's AirNow.gov site, or the California Air Resources Board website's Air Quality Monitoring link.
If the AQI exceeds 150 for PM 2.5, the employer is required to implement protections from wildfire smoke risk, beginning with engineering controls to reduce workplace risks where practicable. That may mean shifting work to an enclosed building or other structure or vehicle where the air quality can be controlled. Administrative controls, such as relocating work to locations where the air quality doesn't present a risk or changing employee schedules to avoid unhealthy air, may be other options.
If engineering or administrative controls cannot reduce the risk that employees will not be exposed to air exceeding a 150 AQI, the employer must shift to provision of personal protective equipment—in particular N95 respirators or the equivalent.
N95 respirators must be approved by the National Institute of Occupational Safety and Health. That means bandannas, balaclavas, turtleneck sweaters and cloth masks aren't acceptable. Neither are other respirator types such as KN95 under the wildfire smoke regulation.
When N95-equivalent respirators are provided, the wildfire smoke regulation allows their use as permitted under industrial respiratory protection regulations when they are provided for voluntary use. The respirators don't need to be fit-tested, and the employer is not required to administer a medical evaluation as would be mandated by industrial respirator regulations.
Also, employees are not required to shave, though facial hair interferes with a tight seal with a respirator of any type, including N95. Industrial respirator regulations do require fit-testing, medical evaluations and for users to be clean-shaven whenever respirators are not provided under voluntary-use rules.
Before the AQI exceeds 150 for PM 2.5, the regulation requires employers to educate employees about possible negative effects of wildfire smoke. Workers should be reassured they may talk to their employers about their concerns about wildfire smoke without fear of reprisals, including about possible health effects of smoke and about how they can protect themselves, such as using respirators as effectively as possible.
In the relatively uncommon event that the AQI exceeds 500 for PM 2.5, employers are required to implement the industrial respirator regulation. Should the air quality deteriorate to this extent, full implementation of the general respirator regulation for large numbers of employees will probably prove impractical. Thus, agricultural operations will likely be greatly reduced if not discontinued altogether.
The Farm Employers Labor Service provides many resources that can aid agricultural employers in compliance with the wildfire smoke regulation. Other resources are available from the University of California, Davis, Western Center for Agricultural Health & Safety.
Wildfire smoke will continue to be a hazard, particularly as the drought continues. Meanwhile, farmworker advocates will likely continue to contend that agricultural employers fail to protect employees.
Currently, the California Farm Bureau opposes proposed state legislation, which would require the Cal/OSHA Standards Board to rewrite its 1½-year-old Wildfire Smoke Standard without any clear indication for why a change is needed. Compliance with the standard by our agricultural employers will help us demonstrate that the existing regulation is practical, manageable and effective for addressing wildfire-smoke challenges for businesses and their employees.
(Bryan Little is director of employment policy for the California Farm Bureau Federation and chief operating officer of the Farm Employers Labor Service. He may be contacted at blittle@cfbf.com.)
Permission for use is granted. However, credit must be made to the California Farm Bureau Federation